Passenger List - Ship Iowa
Sailing Ship Iowa
Passenger List - Page 1

As shown by the first page of it's passenger list (left), the Ship Iowa left from Havre, France and sailed to New York City, arriving on September 1, 1840.&nbsp Typically, such a voyage took thirty to fifty days depending on winds and weather.&nbsp Note that the names of the Peter Meyer (spelled Mayer in the list) and his family appear on the first page, along with those of Peter Hahn and his family.&nbsp Both families settled in Sheldon, though the Hahn family later moved to Buffalo.&nbsp The Thanisch family is listed on page five (see below).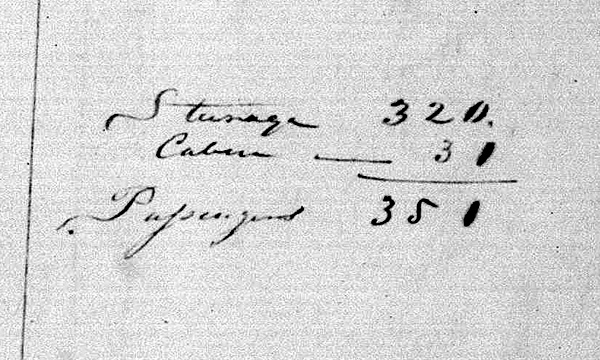 Passenger Count

On this voyage, the Iowa carried 351 passengers, of which 31 occupied cabins and 320 traveled in steerage.&nbsp Only well-to-do passengers could afford cabins, which were located on the quarter deck and which provided reasonably comfortable accommodations.&nbsp Most families, however, traveled in steerage, located on one or more decks below the main deck.&nbsp Steerage generally provided minimal accommodations, including wooden bunk beds, a few toilets, no privacy and poor food.&nbsp Bunk beds were stacked two or three high along the hull, while the middle of the deck was variously used for luggage, cooking, eating and other activities.&nbsp Lack of sufficient toilet facilities, sea sickness and putrid air made the voyage extremely unpleasant.&nbsp Such were the conditions our ancestors endured to start their new life in America.

The Meyer and Thanisch families traveled in steerage.&nbsp Enlarged images of their entries are presented below.

---


Mayer Family - Page 1
This detail from page 1 of the passenger list shows the family of Peter Mayer, ancestor of the Meyer family of Sheldon, New York and surrounding area.&nbsp Peter and Mary traveled with seven children: Maria, Peter, Catharina, Nicolas, Michel, Maria, Jacob and Magdelaine.&nbsp Note the unusual spelling for the some names on the list.
---


Thanisch Family - Page 5

This detail from page 5 of the passenger list shows Johan Thanisch, ancestor of the Tharnish family of Bennington, New York and surrounding area.&nbsp Johann traveled with his mother, Lucia Ketter, who is listed under her maiden name.
---
Back to Johann Jacob Thanisch | Back to Peter Meyer