Moggenbrunn and Kreis Coburg
Local Sights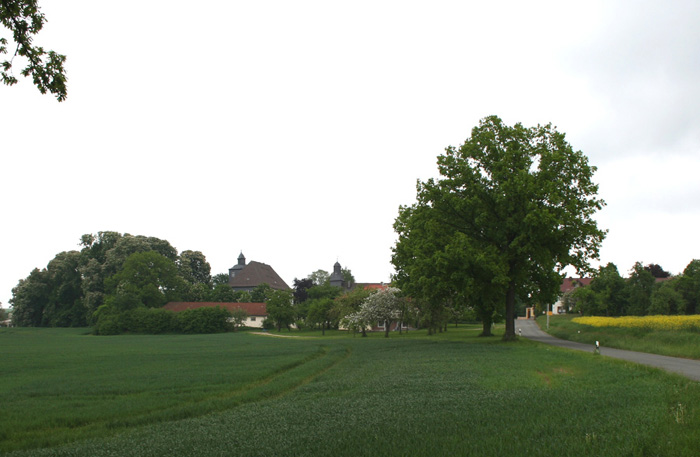 View of Moggenbrunn
---
Moggenbrunn Scenes: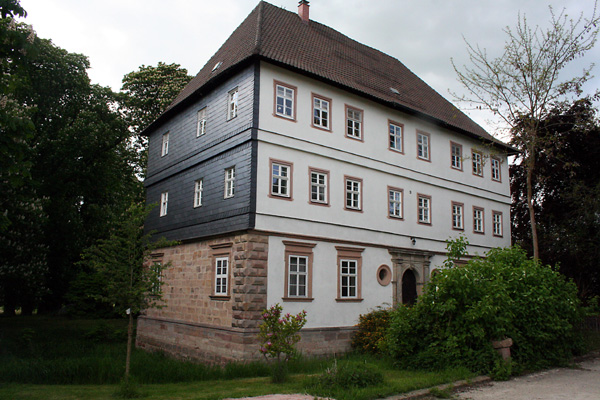 Moggenbrunn Wasserschloss
Moggenbrunn is a small farming village in north central Bavaria, located about 5 kilometers north of the City of Coburg, and about 2 kilometers east of Meeder. The village has around 25 homes and farmsteads. Surrounding the village are the farm fields, typical of small villages throughout Germany.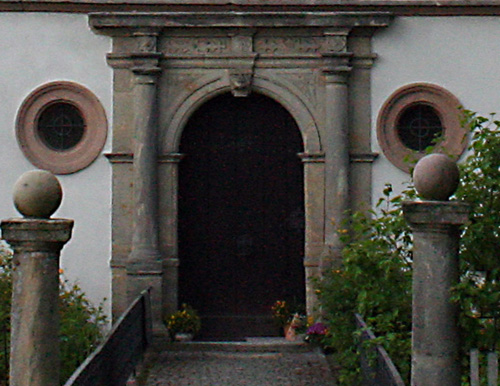 Door of the Wasserschloss
Moggenbrunn is part of the Gemeinde (Mayoralty) Meeder, the local governmental unit in Germany. The Gemeinde's administrative offices are located in the village of Meeder, where we also find St. Lauretiuskirche, the church attended by the Faulring family.
The Wasserschloss Moggenbrunn is located near the south edge of the village. Built around 1550 as a small "castle" with a moat, it is now a private residence.
Moggenbrunn resident shoveling woodchips
into his shed as rain approaches
Moggenbrunn street
| | | | | |
| --- | --- | --- | --- | --- |
| Another memorable sight in Moggenbrunn is the Schutzengel-Kapelle (Chapel of the Guardian Angel) built by the Eckardt family in thanks for the recovery of their daughter. She was severely injured in a car accident in 2005 and remained in a coma for about four years. Miraculously she awoke from the coma and the family gave thanks to God by building the chapel. The Schutzengel-Kapelle sits on the edge of a farm field, giving it a lovely natural setting. | | | | |
| | | Schutzenengel Kapelle | | Farm Fields |
---
Sights in the Coburg Area
Coburg City Square:
The Coburg City Square is a center of urban life; the site of many festivals and celebrations. A life-size statue of Prince Albert, consort to Queen Victoria of England, dominates the middle of the square. Albert was a member of Ducal family of Saxony Coburg-Gotha before marrying Victoria.

The sides of the square are lined with colorful buildings. On a typically day several vender stands are found around the square, selling brats, sausages and hotdogs, or offering local beer.
| | | |
| --- | --- | --- |
| | | |
| Brat and Beer Lunch | | Prince Albert Statue |
---
Veste Coburg:
A prominent sight in the City of Coburg is the Veste Coburg (Coburg Fortress). Set on a hill on the east edge of the city, the Castle dominates the landscape.

Once the home of the Dukes of Saxony Coburg-Gotha, the Veste's many rooms now house a museum containing paintings and other art objects owned by the Dukes and collections of historical artifacts, including arms and armor.




| | | | | |
| --- | --- | --- | --- | --- |
| | | | | |
| Spanish Dancer | | Porcelain Oven | | Knight's in Armor |





---

Ehrenburg Palace:

| | | | | |
| --- | --- | --- | --- | --- |
| Built in 1543, Ehrenburg Palace was the residence of the Dukes of Saxony Coburg-Gotha. Today, it is a museum which displays the finery of the dukes. | | | | |
| | | Ehrenburg Castle | | Main Ballroom |





---

Puppen Museum:

| | | | | |
| --- | --- | --- | --- | --- |
| The Puppen Museum (Doll Museum), near the city square, has an extensive exhibit of dolls well worth viewing. In addition, exhibits include miniature toys, dishes and other items appropriate to doll houses. | | | | |
| | | Puppen Museum | | Doll Exhibit |





---

Area Churches

Kloster Banz:

| | | | | |
| --- | --- | --- | --- | --- |
| The Abbey at Banz, built around 1700, includes a wonderfully decorated sanctuary. Its many frescoes, altars and statues rival those in churches throughout Europe. | | | | |
| | | Kloster Banz | | Painting in the Church Dome |





---

Vierzehnheiligen Basilica:

The Vierzehnheiligen Basilica was built on the spot where, in 1445, a boy appeared three times to Hermann Leicht, a young shepherd. The third time the child was surrounded by fourteen helpers, who he said would help if a Chapel was built for them, resulting in the Basilica.

The Church displays many colorful frescos, altars and statues and its round, central altar is decorated with the images of fourteen saints.
Vierzehnheiligen Basilica
Basilica Altar





---

Accommodations

While there are many good hotels and other accommodations in Coburg and the surrounding area, we had a very good experience of staying in the following:

Gasthof Frankenstuben:

Located in the village of Ebern, about 30 kilometers south of Coburg, the Gasthof Frankenstuben offers neat, clean accommodations, at reasonable cost. The inn's restaurant serves a continental breakfast, which is included in the room rate. The chef, who is also an owner, is known in the area for his award winning cooking. Further information is available on their web site.

Ebern is also about 30 kilometers north of Bamberg, a well known tourist destination and a World Heritage site.





---

Hotel-Gasthof Wasserschloss:

| | | |
| --- | --- | --- |
| The Hotel Wasserschloss is located in the village of Mitwitz, about 25 kilometers east of Coburg. The hotel also offers neat, clean accommodations, at reasonable cost. An excellent continental breakfast is included in the room rate. Further information is available on their web site. | | |

---

Back