Frank Zehler



Second Generation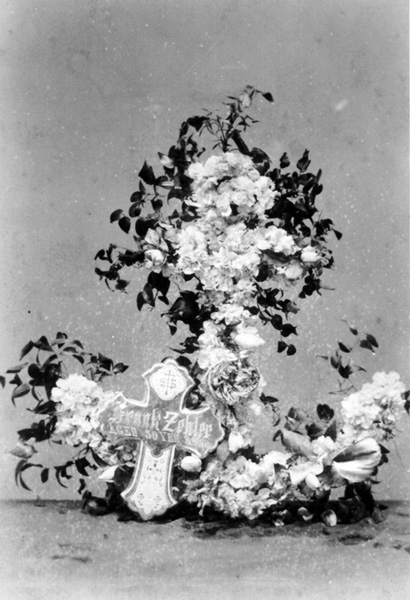 Funeral Flowers of Frank Zehler
---
Frank Zehler was the thirteenth and last child of Peter Zehler and Anna Maria Klasen.&nbsp The first record we have of Frank is his baptism on November 9, 18561, at St. Cecilia's Roman Catholic Church in Sheldon, New York.&nbsp The U.S. Census of 186047 and of 187046 give his birth place as New York.&nbsp However, Frank's grave stone reads "born July 1, 1855", which indicates he was born prior to the family immigrating to America.&nbsp If so, Frank came to America with his parents in 1856, and indeed the passenger list for the Sailing Ship Fairfield shows a child of 11 months in the Zehler family.&nbsp The child's name, however, Jacob, not Frank.

Frank grew up on the family farm in Bennington, New York, where he would have obtained any of his formal or informal education.&nbsp The 1870 U.S. Census lists his occupation as a farm laborer46, work he probably continued in for his the remainder of life.&nbsp Frank died on March 19, 1887, nearly 32 years of age, and is buried in the cemetery of Sacred Heart of Jesus in Bennington2.

The story of Frank's short life would be routine, except for some peculiarities and contradictions in the records.&nbsp First, the U.S. Census lists his birth place as New York, even though the date on his grave stone indicates otherwise.&nbsp Second, and more important, the passenger list contains an eleven month old child, exactly matching Frank's age, but with the name Jacob.&nbsp These facts point to a real mystery.&nbsp We may not know what actually happened, but a likely guess is possible.&nbsp See A Family Mystery.

---
These pages are our initial attempt to capture the history and genealogy of the Zehler family.&nbsp If you have comments or additional information which would add to this story, please contact us at the following address: