Six Zehler Brothers
---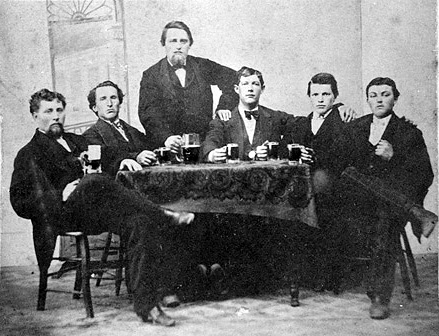 Six of the Zehler brothers - about 1870
from left:&nbsp Nicholas, Frederick, Charles, Frank and [Jacob and John]


This picture of the six youngest Zehler brothers was probably taken shortly before Frederick married Alice Perry and moved to Michigan. The identity of four of the brothers can be clearly established by comparison to other pictures. The identity of twins, Jacob and John, is not certain &nbsp The only available picture of Jacob is in later life.&nbsp This, along with his youthful appearance above, does not permit a definite identification.&nbsp The comparison does, however, suggest that Jacob is the twin seated second from the right in the picture.
---
Back to Charles Zehler | Back to Frank Zehler | Back to Frederick Zehler | Back to Jacob Sailer | Back to John Zehler | Back to Nicholas Zehler