Almira Perez Suico
1935 - 2012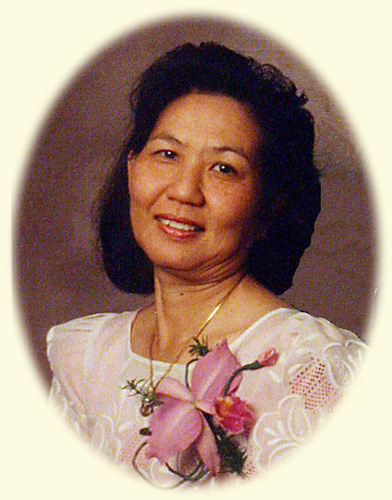 Almira Suico
---
Almira Cabahug Perez was born on December 24, 1935, in Mandaue, Cebu, Philippines, a Christmas present for Carlos Perez and Candelaria Cabahug.&nbsp An entry in her father's small notebook describes the occasion.
Third - Daughter&nbsp Almira Perez &nbsp means Lofty
Born Dec. 24, Tues. 1935 at 10:30 A.M.
Baptized, Jan. 4, 1936 - Catalina Cabahug & Charing Colina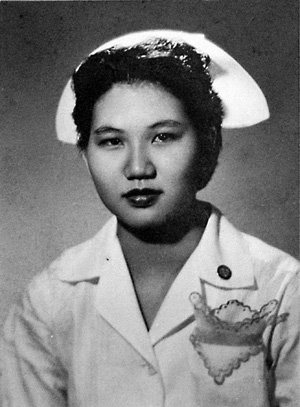 Almira
Known by the respect name, Inday, Almira grew up in Mandaue, where she completed her elementary education in Mandaue Elementary School.&nbsp However, during the Japanese Occupation in World War II, Almira attended grade school at the Colegio de la Inmaculada Concepcion in Cebu City.&nbsp Her high school education was also at Inmaculada Concepcion, a girls school run by the Daughters of Charity.&nbsp Following high school, Almira studied nursing at Southern Islands School of Nursing, completing the requirements to become a Registered Nurse.&nbsp Finally, Almira concluded her education by earning a BS in Nursing at Southwestern University, Cebu City, in 1962, before beginning a life-long career in the nursing field.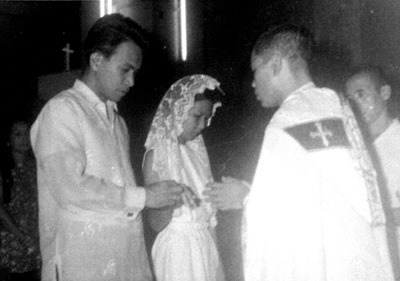 Ruben and Almira's wedding
In 1963, Almira married Ruben Suico, a fellow Mandauehanon.&nbsp They initially settled in Mandaue, where Almira worked as a Mandaue Rural Health Nurse, attending to the health needs and assisting in births for local families.&nbsp In 1968, Almira emigrated to the United States, along with Nellie Seno Roque, a fellow colleague and friend.&nbsp She briefly stayed in Los Angeles, California, but soon transferred to Perth Amboy, New Jersey, along with Adelina Perez, where she worked as a nurse.&nbsp Almira's stay in Perth Amboy, New Jersey was also short, and in the fall of 1968, she transferred to Columbus Hospital in Chicago, Illinois, where she worked as a nurse until 1991.&nbsp After leaving Columbus Hospital, Almira worked for Blue Cross Blue Shield for eleven years until her husband retired.&nbsp They soon moved to Florida to be near their daughter and her family.
In 2011, Almira was diagnosed with liver cancer.&nbsp She fought bravely through over a year of chemotherapy, before entering hospice in the fall of 2012.&nbsp Almira breathed her last on December 3, 2012.&nbsp Her eulogy, written by her nephew, Arvin Temkar, provides a glimpse of Almira's love for life.&nbsp It includes the following comments
"She loved cooking, and she loved gardening.&nbsp She was generous with her harvest.&nbsp Friends and relatives could always count on a care package from her abundant garden.&nbsp She loved watching things grow ‐ orchids, papayas, bananas and, yes, guavas.
Her life was full, and she saw the world.&nbsp Though she traveled many places ‐ Amsterdam, Paris, London, New York, Tokyo ‐ she never forgot where she came from."
The complete text can be accessed at eulogy.
Almira will live in our memories.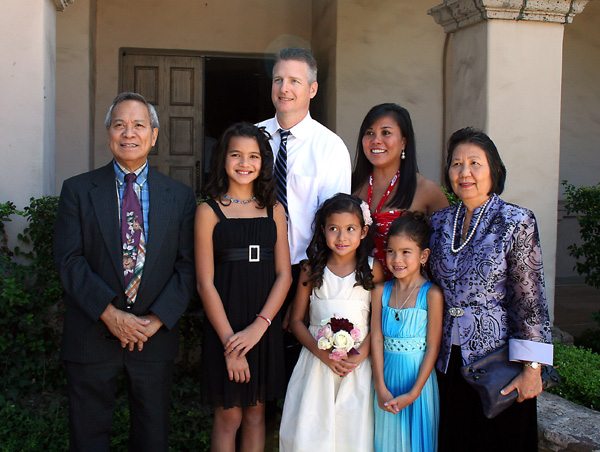 Almira's Family
---
Top | Back