Baptism Record of Maria Estefa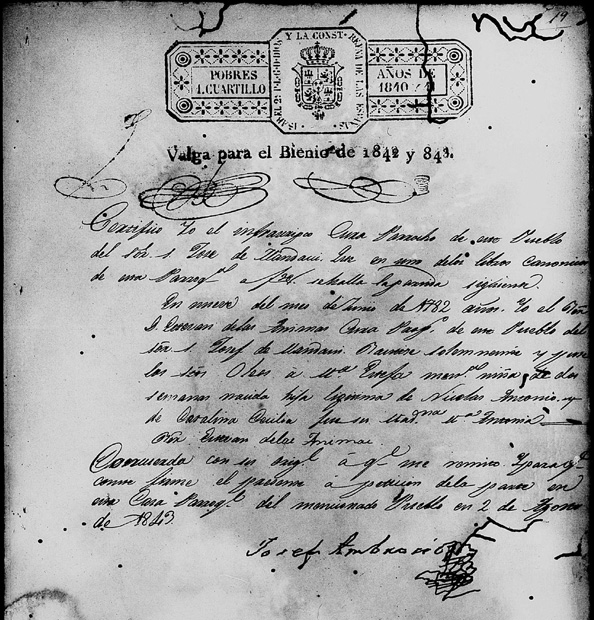 Baptism Record of Maria Estefa
9 June 1782
St. Joseph's Catholic Church, Mandaue, Cebu, Philippines
---
Certifico Yo el infrascripto Cura Parrocho de este Pueblo del Sorl. S. Jose de Mandaui: Este en uno delos libros Canonico
de esta Parrocal a f28l se halla la partida seguientet.
I, the Parish Priest of this Town of the S[eñ]or S. Josseph of Mandaue, Certify the underwritten. It is one from the Canonical book of this Parrish on folio 28 which has the following content.
En nueve del mes de Junii de 1782 año Yo el Rev. D. Estevan delas Animas Cura Paroal de este Pueblo del Señ. S. Josef de Mandaui. Bautizo Solemnemente y puse los Stõs Oleos a Ma Estefa mesta niña de dos semanas nacida hija ligitima de Nicolas Antonio y de Carolina Cecilia fue su Madna Ma Antonia
Rev. Estevan delas Animas
On the ninth of the month of June in the year 1782 I the Rev. D[on] Estevan delas Animas Parish Priest of this Town of Señ[or] S[aint] Joseph of Mandaue.&nbsp Solemnly Baptized and placed Holy Oil on M[aria] Estefa mestizo child de two weeks from birth, legitimate daughter of Nicolas Antonio and Carolina Ceilia whose Sponsor was M[ari]a Antonia
Rev. Estevan delas Animas
Conuserda con su origl á gl me remito Yparagl conste firme el presente á peticion dela parte en este Casa Parrogl del mencienado Pueblo en 2 de Agosta de 1843.
Josef Ambrosio
Known from its orig[ina]l w[ich] was remitted to me and which for the record I sign the present on request of the party in this Parish House of the mentioned Town on the 2nd of August of 1843.
Josef Ambrosio
---
Back to Introduction | Back to Jacinto Andres