Descendants of Jacinto Andres and Maria Estefa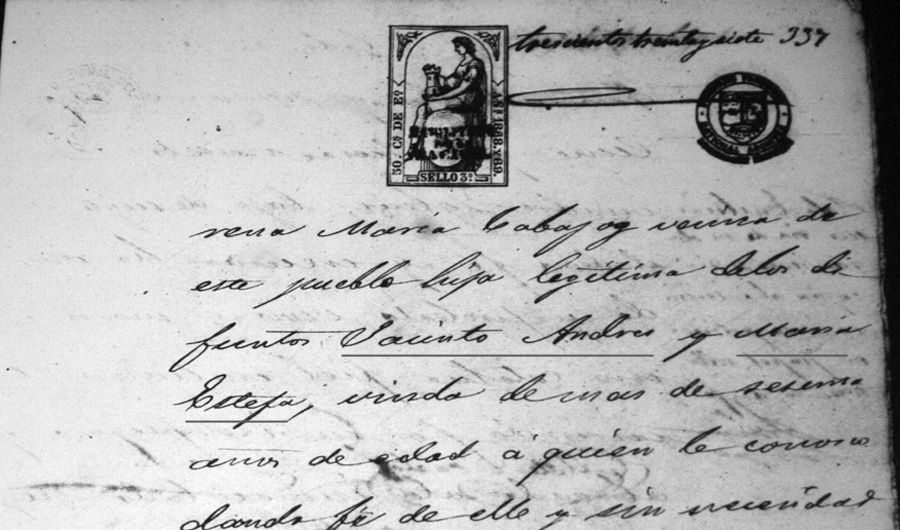 Portion of Nazarena Cabahug's Will
---
Jacinto Andres, along with Josef Silvestre, is one of the earliest known members of the Cabahug family.&nbsp He and his wife, Maria Estefa, are named in the 1869 Testamento (will) of Doña Nazarena Maria Cabajug, as her parents24.&nbsp Nazarena was over 60 years old at the time, indicating the Jacinto and Estefa were born in the late 1700's.&nbsp [Note that prior to 1850, residents of the Philippines had two names, however they were generally known by one of those names, as indicated here.]
Nazarena Cabahug recorded two wills in 1869, the first in July24 and the second in October25.&nbsp The second will provides additional information on her parents.&nbsp First, it states that they were born in and residents of Mandaue.&nbsp However, such information is not always accurate, due to faulty memory.&nbsp Fortunately, there is confirmation that Maria Estefa was born in Mandaue.&nbsp By shear luck, the record of her baptism was copied in 1843, likely for some legal purpose.&nbsp Estefa was baptized on June 9, 1782, at St. Joseph's Catholic Church in Mandaue, at two weeks of age48.&nbsp This proves she was born in Mandaue, and suggests that Jacinto was also born their, or at least was a resident for most of his life.
Nazarena's second will names her parents, in this as Jacinto Ignacio and Maria Estefa.&nbsp The difference in Jacinto's name probably indicates a lapse in Nazarena's memory, rather than a sigificant problem.&nbsp It does show, however, that her father was commonly known as Jacinto to his family and the community.&nbsp We have chosen to use the name Jacinto Andres.
A 1851 entry in the Protocolos35 by Ambrocio Cabahug states that Maria Estefa recorded her will in 1847, before the Gobernodorcillo of Mandaue.&nbsp This suggests that her husband had died previous to 1847, otherwise Estefa would not record a will.&nbsp The entry also states that Maria Estefa had died by 1851.
The known children of Jacinto Andres and Maria Estefa are:
---
---
Ambrocio Cabahug:
What little we know about Ambrocio Cabahug comes from two entries in the Protocolos.&nbsp On January 25, 184534, Don Ambrocio Mariano was one of the Cabezas de Barangay of Mandaue who signed an agreement establishing the boundary between the newly created town of Liloan and Mandaue.&nbsp Then on May 25, 185135, Don Ambrocio Cabahug Mariano recorded clause number of seven of his mother's will.&nbsp Maria Estefa recorded her will in 1845 before the Gobernodorcillo of Mandaue.&nbsp [Note the connection between Ambrocio's name in 1845, and in 1851.]
Estefa's will granted Ambrocio a number of household items, including 49 buttons of silver used for a leather jacket.&nbsp These items had a total value of 16 pesos, 7 reales and 23⁄5 granos.&nbsp In addition, Ambrocio received the land were the family house was located, probably in the Poblacion, a lot in Looc and part of a lot in Omapad.&nbsp Finally, the clause mentions his eighth share of a house purchased by Ambrocio, suggesting he had seven siblings.&nbsp We only know of his sister, Nazarena.
---
Nazarena Cabahug:
Nazarena Maria Cabahug is known from her testamentos, recorded in the notary records of Cebu (Protocolos), which were first reported by Dr. Michael Cullinane4, in a personal communication.&nbsp In her testamento of 8 July 186924, she states that she is a "widow, more than sixty years of age", and names her parents as Jacinto Andres and Maria Estefa.&nbsp In a second testemento25, dated 20 October 1869, Nazarena states that her husband, Mariano Cortes, passed away in 1853.&nbsp This testamentos also names her eight children and several grandchildren.
The testamentos of Nazarena also give some insight into her status.&nbsp She owned land in Canduman, along with carabao and she also had a house, probably in the Poblacion24.&nbsp Finally, she owned a considerable amount of jewelery24.&nbsp The second testamento clarified her inheritance, with the land in Canduman going to her son Macario, and her jewelry going to daughter Timotea25.&nbsp She also left various items to Esperidion Flores, son of Timotea25.&nbsp The extent of her estate indicates that Nazarena was a wealthy resident of Mandaue.
The children of Mariano Cortes and Nazarena Cabahug are:
---
| | | |
| --- | --- | --- |
| i. | Valeriano Cortes | Valeriano died before 186924.&nbsp He had not married. |
| ii. | Leona Cortes | Leona died before 186925.&nbsp She had not married. |
| iii. | Jorge Cortes | Jorge died before 186925. |
| iv. | Macario Cortes | Nazarena was born in the first decade of the 18th century24.&nbsp She married Mariano Cortes. |
| v. | Ignacio Cortes | |
| vi. | Timotea Cortes | |
| vii. | Manuel Cortes | |
| viii. | Rufino Cortes | |
---
Jorge Cortes
Jorge Cortes is the son of Mariano Cortes and Nazarena Cabahug.&nbsp By 1869, when Nazarina recorded her Testamemtos, Jorge had died. In her Testamemto of 20 October 186925, she named Jorge's children as follows:
---
| | | |
| --- | --- | --- |
| i. | Placido Cortes | Placido married Alejandra Ouano3. |
| ii. | Marcelina Cortes | |
| iii. | Marcosa Cortes | |
| iv. | Cornelia Cortes | Cornelia married Prudencio Sanchez3. |
| v. | Regina Cortes | |
---
Top | Cabahug Surname Index | Philippine Main Page | Site Main Page
These pages are our initial attempt to capture the history and genealogy of the Cabahug family.&nbsp If you have comments or additional information which would add to this story, please contact us at the following address: