Descendants of Pedro Cabahug
---
Pedro Cabahug was born about 1870 in Mandaue3, the fourth child of Bartolo Cabahug and Florencia Seno.&nbsp Pedro apparently grew up and lived in Mandaue.&nbsp In the early 1890s, Pedro married Apolonia Briones.&nbsp Pedro and Apolonia had two children.&nbsp Then Apolonia died at an early age, and Pedro entrusted the care of their children to Apolonia's brother, who was a priest in the town of Borbon, Cebu, at the time.&nbsp As part of this arrangement, the surname of the children was changed to Briones, which is reflected in the table below.
The children of Pedro and Apolonia are:
---
| | | |
| --- | --- | --- |
| i. | Manuel Cabahug Briones | Manuel was born on January 1, 189446, and he died on September 29, 195746.&nbsp Manuel married Celestina Lorenzo. Manuel and Celestina had six children. |
| ii. | Buenaventura Cabahug Briones | Buenaventure was born on July 14, 19009, and died on February 12, 19759.&nbsp He married Victoria L______.&nbsp Victoria was born on February 17, 19159, and died on February 20, 20059.&nbsp Buenavetura and Victoria had twelve children. |
---
After the death of his first wife, Pedro had a relationship with Julia Señas, which resulted in two children45.&nbsp Julia was born on December 30, 18709, and died on October 28, 19669.
The children of Pedro and Julia are:
---
| | | |
| --- | --- | --- |
| i. | Honorata Señas | Honorata was born on January 11, 19049, and she died on November 30, 19419.&nbsp Honorata married Pedro Ceniza.&nbsp Pedro was born May 19, 18969, the son of Ignacio Ceniza and Bonifacia Mendoza, and he died on November 30, 19419. |
| ii. | Epifania Señas | Epifania was born about 19063,45, and she died on July 16, 19903.&nbsp Epifania married (1) Simeon Sebastian and (2) Moises Tagalog.&nbsp Simeon and Epifania had one child and Moises and Epifania had four children. |
---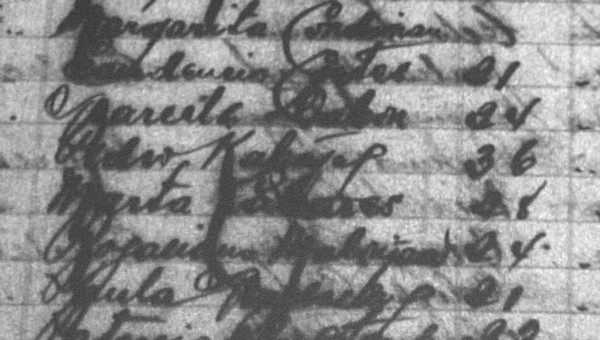 Excerpt from the Marriage Record of Pedro and Marta Labares


On May 24, 1906, Pedro married Marta Labares3.&nbsp Marta was born about 1877, in Mandaue, the daughter of Nicasio Labares and Macaria Flores.&nbsp There is no evidence of children from this marriage, nor is it know how or whether the marriage was ended.
---
Ignacio Ceniza also reported the Pedro had children the following children45:
Diosdado "Dadang" Mendoza
Angel Sanchez
Bastiana Sanchez
Celestina Sanchez
Apolonia Sanchez
No other information is available concerning these individuals.
---
Manuel C. Briones
Manuel C. Briones is one of the outstanding members of the Cabahug family.&nbsp He was born of January 1, 189446, the son of Pedro Cabahug and Apolonia Briones.&nbsp After the death of his mother, Manuel and his brother were placed under the care of the brother of Apolonia, who was a Catholic priest in Borbon, Cebu.&nbsp It was at this time that their surnames were changed to Briones.&nbsp Manuel and his brother are said to have lived in various towns in Cebu.
The Senate Profile of Manuel summarizes his illustrious career as follows47:
---
"... and after his years of educational training he found work as newspaperman.&nbsp He rose to become editor of La Tribuna and El Espectador, Cebu papers published in Spanish.
In 1916 he finished law and became a member of the Philippine Bar.&nbsp Not long after the people of Cebu made him their representative and he served in the House of Representatives for four terms, (1918-1931).&nbsp He co-authored the country's first labor law, known today as the Workmen's Compensation Act.&nbsp He also served in the House as Majority Floor Leader, and he headed a legislative survey mission to Mindanao, which resulted in the construction of road and highway projects there.
Briones was also member of the Philippine Independence mission to the United States in 1930.&nbsp From 1931 to 1935, he served as senator.&nbsp He was a delegate to the Constitutional Convention in 1934, and he was one of the seven that composed the Committee of Wise Men, which drafted the Philippine Constitution.
The Nacionalista party made him vice-presidential standard-bearer in 1949, but he lost.&nbsp In 1951, he was again elected to the Senate and he was subsequently chosen Senate President Pro Tempore up to 1957.
He was a member of international cultural societies, including the Royal Academy of Spanish-American Sciences and Arts, and of the Royal Academy of the Spanish Language.
He married Celestina Lorezo and they had six children."
---
Manuel Briones died of a heart disease on September 29, 1957, at the age of 63.&nbsp He was aboard the M/V Cagayan de Oro on the way to Manila for medical treatment at the time of his death.&nbsp He was buried on October 3, 1957 in the Cebu Cemetery.
---
Top | Cabahug Surname Index | Philippine Main Page | Site Main Page
These pages are our initial attempt to capture the history and genealogy of the Cabahug family.&nbsp If you have comments or additional information which would add to this story, please contact us at the following address: