Daisy Perez Temkar
1951 - 2013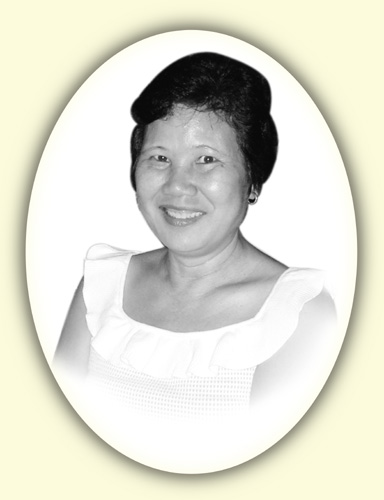 Daisy Perez
---
Daisy Cabahug Perez was born on November 14, 1951, in Mandaue, Cebu, Philippines, the daughter of Carlos Perez and Candelaria Cabahug.&nbsp An entry in her father's small notebook describes the occasion.
Tenth - Daughter&nbsp Daisy Perez
Born 7:30 A.M.&nbsp 11/14/51
Baptized, 2/2/52 - Luisa Sy Echavez, Godmother
Daisy grew up in Mandaue, where she completed her elementary education in Mandaue Central School.&nbsp Her high school education was at the Colegio de la Inmaculada Concepcion, a girls school run by the Daughters of Charity.&nbsp Following high school, Daisy studied Food Science at the University of the Philippines, Los Baños, where she earned a B.S.&nbsp Finally, Daisy completed her education at the University of Missouri - Columbia earning an M.S. in Food Science in 1980.&nbsp Her Master's thesis was titled "Fermentation of Corn Meal with Candida tropicalis ATCC 1269 and its Effect on the B Vitamins and Relative Nutritive Value."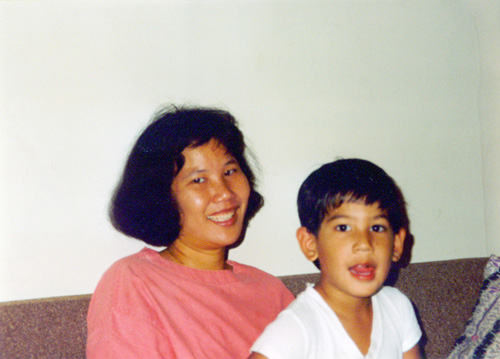 Daisy with son Arvin
Following graduation, Daisy accepted a position in the Quality Control department of Kraft Foods, in Springfield, Missouri.&nbsp She soon transferred a Kraft Head Quarters office in Glenview, Illinois.&nbsp In 1984, Daisy married Prakash Temkar, whom she had met at the University of Missouri.&nbsp They settled in Wheeling, IL, where they lived from 1985 until 1989.&nbsp Arvin, their son, was born in 1986 at Park Ridge, IL.&nbsp Subsequently Daisy moved to Japan where Prakash was transferred to an Army base in Camp Zama, about 35 km southwest of Tokyo.&nbsp In 1992, they returned to Champaign-Urbana, IL.&nbsp Tara, their daughter, was born in 1993 in Urbana.&nbsp They moved to Peachtree City, GA in 1994 and lived there until 1998.&nbsp Finally, they returned to Camp Zama, Japan.&nbsp Both of their children graduated from the American High School at Camp Zama, Japan.
While Daisy and family lived in Japan, Daisy taught English to many older Japanese, including university students and business men.&nbsp Not only did this provide income, for Daisy it was a great joy to help her students and she made many lasting friends.
After her family, Daisy had two other major joys in her life, plants and travel.&nbsp Where possible she grew plants and flowers, particularly orchids which she often collected on visits to the Philippines.&nbsp Daisy's travels took her to many countries in Asia, including South Korea, China, Hong Kong, Thailand and India.&nbsp She also visited several countries in Europe.
In the Spring of 2013, Daisy was diagnosed with lung cancer; a particular for of small cell lung cancer caused by a somatic mutation.&nbsp This particular form can be treated by a specific inhibitor.&nbsp Initially, the "Golden Pill" showed promise, however, the tumor had metastasized to the liver.&nbsp Daisy fought bravely throughout and always maintained her cheerful outlook.&nbsp She breathed her last on November 24, 2013, surrounded by her husband and children.&nbsp After a traditional Filipino Novena, Daisy was interred the Perez family mausoleum in Mandaue, Cebu.&nbsp Daisy's love of life are captured a poem written by her son, Arvin, and the eulogy spoken by her daughter, Tara.&nbsp The latter includes the following comments
"She was a strong woman with a tough exterior. She never showed her emotions and hardly told her children and husband she loved them.&nbsp Instead she showed her emotions through her actions by cooking us delicious meals or by telling her children to come home before it got dark.."
We will always remember Daisy's smile.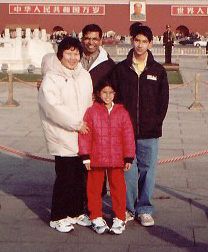 Daisy's Family on a trip to China
---
Top | Back