Family of David Needham and Mary Field
Seventh Generation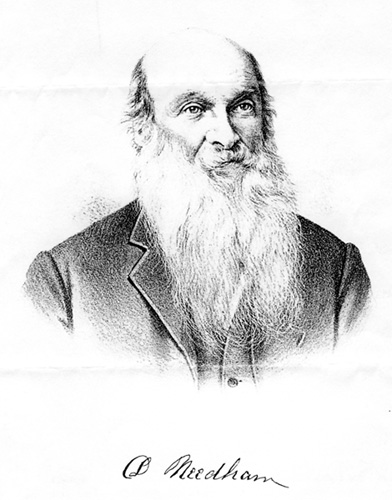 David Needham
---
David Needham was born on June 26, 1828, in the Town of Concord, New York, the fourth child of Oliver Needham and Lodisa Green15. Like his brothers, David likely attended District School, before beginning life as a farmer. He also learned the trade of shoemaker, which kept him occupied in the winter months. In 1848, David traveled to Wisconsin, stopping first at White Water, where he plied his trade until the following spring15. He then proceeded to Dane County along with his brother, A.G. Needham, where they bought land15. Then in July 1849, David returned to New York, leaving his brother to improve the land15.
In 1850, David was living with his parents and working on the family farm4. On February 27, 1851, David married Mary Loving Field15. Mary was born on August 18, 18293, the daughter of William Field and Mary Elvira Briggs. As indicated by the 1855 State Census, David and Mary purchased a home in Concord16. His occupation is listed as shoemaker, suggesting that he was not farming at this time. In the fall of 1856, David and Mary left New York and traveled to Wisconsin by horse and buggy, a trip which took six weeks15. David and Mary settled in the Town of Holland, La Crosse County, Wisconsin, where he preempted 160 acres of land15, meaning he purchased pubic land at a minimum price. He later increased his holdings by purchasing 44 more acres of land. For the first five year David had a boot and shoe shop in New Amsterdam, while Mary taught in District School during the summer15. Finally, in 1862, he made a permanent settlement on the farm15. David retired in the early 1900s and by 1905, his son, Oliver was running the farm.
David died on June 25, 190514. Thereafter, Mary lived with their son Oliver, who continued to run the family farm17,18. She died on April 18, 1922, at the age of 9214.
The children of David and Mary were:
Eighth Generation
---
| | | |
| --- | --- | --- |
| i. | Ella Lodica Needham | lla was born on January 18, 186114, and she died on December 11, 186414. |
| ii. | Oliver Needham | Oliver was born on October 15, 186714, and he died on January 26, 193114. Oliver married Kate Eva Adams. |
---
The Family of Oliver Needham and Kate Adams
Oliver Needham was born on October 15, 186714, in the Town of Holland, St. Croix County, Wisconsin, the son of David Needham and Mary Field. For much of his life, he lived on the family farm in the Town of Holland. In the 1900 U.S. Census, his occupation is given as School Teacher23. On June 17, 1902, Oliver married Kate Eva Adams14, the daughter of Joseph R. Adams. Kate was born 1863, in Indiana17,18,26.
Between 1900 and 1905, Oliver's father retired, and Oliver took over the family farm24. Oliver continued to run the farm until his death on January 26, 193114. Kate continued to live in St. Croix county, probably on their homestead, until after 193526, and by 1940, she was living with son, David, in Lyons Township, Wadena County Minnesota26. Kate died in 194327.
The children of Oliver and Kate were:
Ninth Generation
---
| | | |
| --- | --- | --- |
| i. | David A. Needham | David was born on October 2322, 1903 and he died in December 197322. He married Esther M. Taplin. Esther was born on November 5, 190322, and she died on April 21, 197322. David and Esther had four children |
| ii. | Bessie Eva Needham | Bessie was born on October 29, 190522, and she died on October 26, 198222. Bessie married Joseph Andrew Jones Joseph was born on February 11, 190722, and he died in October, 198222. |
---
Top | To Needham Surname Index | To Oliver and Lodisa Needham | To Site Main Page
These pages are our initial attempt to capture the history and genealogy of the Needham family. If you have comments or additional information which would add to this story, please contact us at the following address: