Leigh Zahler



Fourth Generation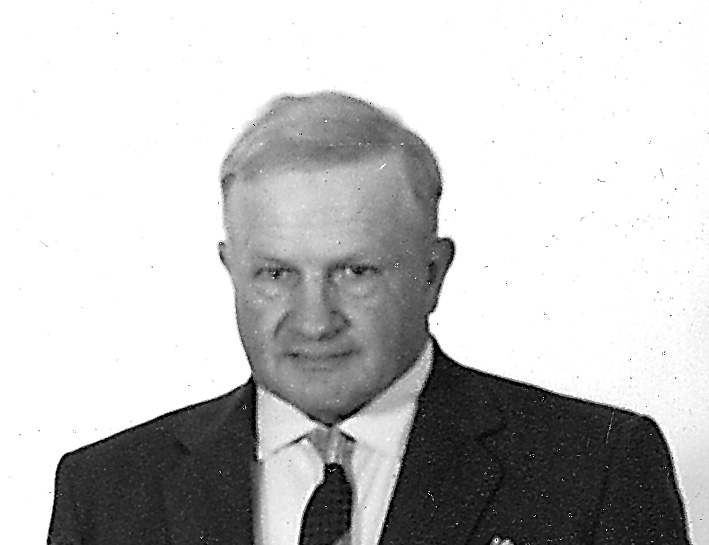 Leigh Zahler, 1960
---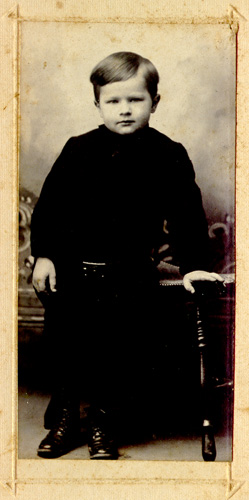 Leigh as a child

Leigh Merlau Zahler was born on January 22, 190318, on the Castle farm near Strykersville in the Town of Sheldon, New York, the first child of Floyd Zahler and Minnie Merlau.&nbsp At the time, his father was working the farm on shares.&nbsp In 1906, the family moved to their own farm in Sardinia where Leigh lived for the remainder of his productive life.

Leigh's youth was spent in a rural setting of farms and small communities.&nbsp Undoubtedly, he was expected to help on his parents farm, but he also enjoyed the active social life of the community.&nbsp As he described22:


Some of the pleasures of the times were Grange picnics in Brigg's Woods on the corner of Savage and Allen Roads, fairs at Batavia and Franklinville, and Armistice Day parades in Sardinia.&nbsp From Curriers one took the train to Attica, then changed cars to get to the Batavia Fair.&nbsp Other social events were card parties and church suppers.&nbsp The Sardinia Town Hall was then the Methodist Church.&nbsp In Winter the annual bazaar lasted two days.&nbsp Upstairs plays were put on.&nbsp Local young people had a "True Blue" group which had parties once a month

The local boys' main sport was baseball.&nbsp Sometimes they played against Yorkshire.&nbsp There was a swimming hole down at the Fords in Cattaraugus Creek one hundred feet long.... The Cottrell boys, near Zahlers, had a car which they drove on swimming excursions to the Creek."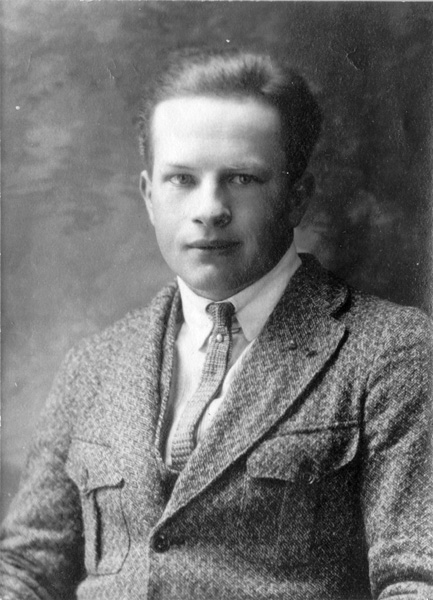 Leigh as a young man

Leigh began his schooling in 1909 at the district school building on Matteson Corners and Warner Gulf Roads.&nbsp In 1916, he started high school in Sardinia and, after four years, Leigh ended up the top of his class..... of one.&nbsp Following graduation, Leigh worked on the family farm for a couple years before seeking employment.&nbsp For the next 26 years he was employed by the County and State Highway Departments, the Pennsylvania Railroad and the Iroquois Gas Company.&nbsp Leigh relates that "at one time he was working on the stretch of road between Chaffee and Hand Road on Route 16 for twenty-five cents an hour.&nbsp Then a detour over Savage Rd. had to be repaired and a crew was hired at 35 cents an hour.&nbsp Several Route 16 workers quit to work on the second job, Leigh among them22.&nbsp Finally, in 1946, Leigh took over the white wash business of his brother, Lyle.&nbsp Leigh continued white washing barns in the area until 1964, when he retired to help take care of his father.

Leigh had a positive outlook on life, was a hard worker and had an exceptional memory.&nbsp On the farm, he usually tackled the dirtier jobs.&nbsp Leigh was the one who mowed the straw in the barn at trashing time, ending the day covered from head to toe in dust.&nbsp He was also an avid reader, digesting everything from National Geographic to the National Inquirer.&nbsp Leigh's memory was particularly keen for events early in his life and in his families history.&nbsp At home and with family, he would typically relate some stories from the past.&nbsp Over time these stories were repeated so often they exasperated his sister-in-law, Ethel, and became the butt of jokes in the family.

After the death of his father in 1966, Leigh continued to live with his mother.&nbsp When their farm house burned to the ground, a trailer was situated on the site.&nbsp After Leigh's mother died in 1969, hs continued to live in the trailer until the late 1980's.&nbsp By that time, he was so crippled by arthritis that he was unable to care for himself and he moved to the Fiddlers Green nursing home in Springville.&nbsp With a keen, clear mind until the end, Leigh died on February 17, 199318.
---