The Family of Floyd Zahler and Wilhelmine "Minnie" Merlau
Third Generation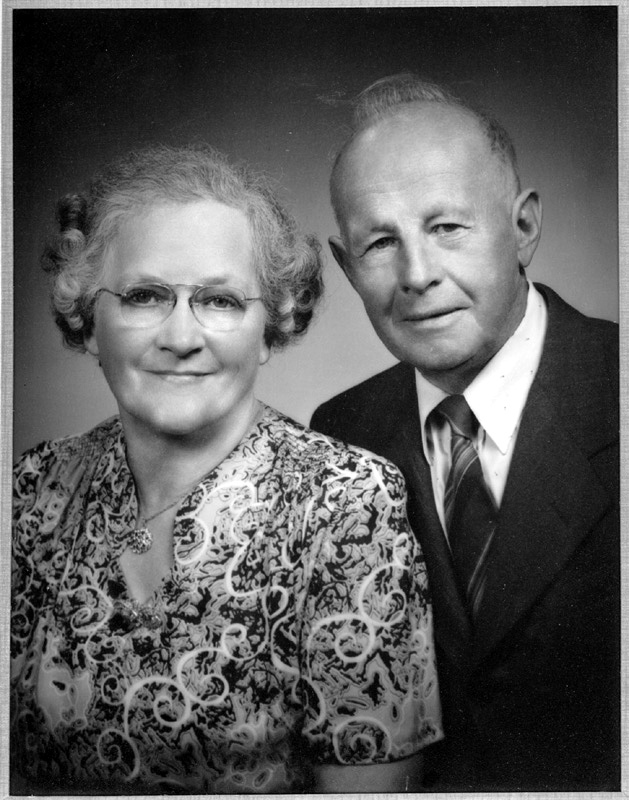 Floyd and Minnie Zahler
50th - 1950
---
Floyd Zahler was born in Big Rapids, Michigan, but moved back to western New York with his mother after the death of his father. There he met and married Wilhelmine "Minnie" Merlau. Initially they lived in Strykersville, New York, but soon moved to Sardinia, were they lived for the remainder of their lives. Floyd and Minnie had three children.
The children of Floyd and Minnie Zahler are:
Fourth Generation
---
| | | |
| --- | --- | --- |
| i. | Leigh Merlau Zahler | Leigh was born on January 22, 190318, and he died on February 17, 199318. Leigh remained unmarried. |
| ii. | Earl Floyd Zahler | Earl was born on August 190719, and he died on April 12, 190919. |
| iii. | Lyle Herbert Zahler | Lyle was born on July 23, 191318, and he died on January 7, 199718. Lyle married Ethel Faulring. |
---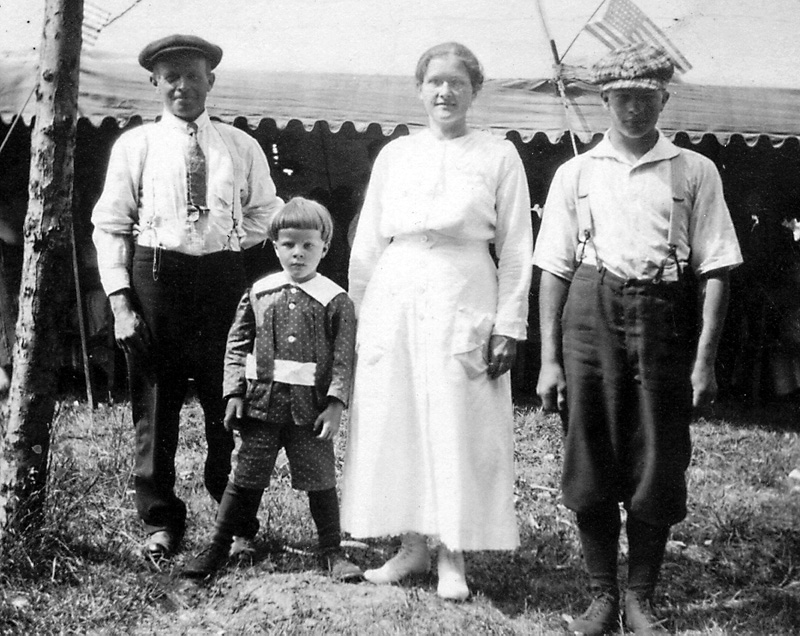 The Zahler Family - about 1918
---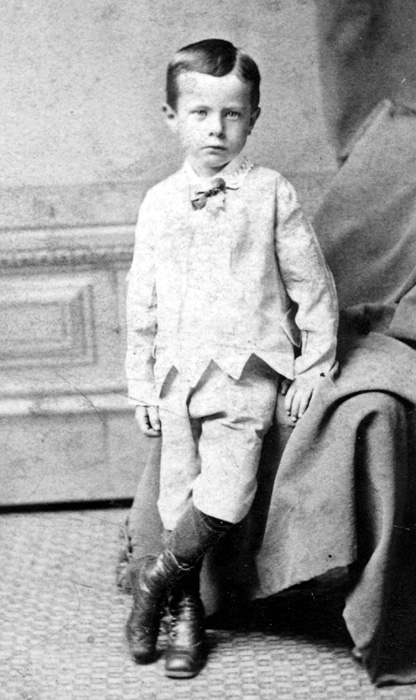 Floyd - 1879
Floyd Eugene Zahler was born July 24, 187311, in Big Rapids, Michigan, the only child of Fred Zehler and Alice E. Perry. When Floyd was four years old, his father died and he moved back to New York with his mother, to live with his grandparents. According to family lore, the change of Floyd's name from Zehler to Zahler occurred after his mother returned to New York. She was apparently afraid that his Zehler relatives would take Floyd away from her and thought the change would help protect him.
Soon Floyd's life was altered again when his mother remarried in 1879 to Martin Tharnish. Initially, Martin and his new family migrated west to Audubon County, Iowa, with the intent of settling there. Floyd's mother, however, became homesick and the family returned to Western New York.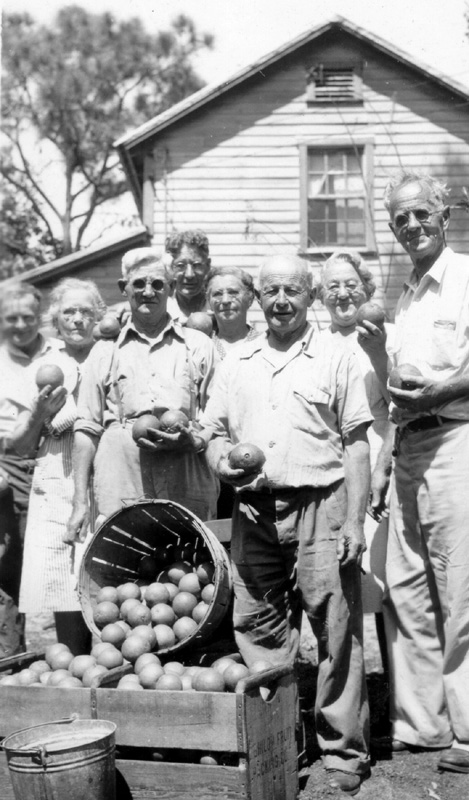 Floyd with Family and Friends
Typical of a farm boy at the time, Floyd began work young. At the age of 14, he was working for a blind farmer in Batavia Genesee County, plowing and drilling about seven acres of land22. He also worked at the Harvester farm machinery plant in Batavia22, bicycling to and from work. In 1897, he began farming in earnest by renting a farm in Strykersville, Wyoming County paying with a share of the crops20.
It was during this time that he met Minnie Merlau, who lived nearby. They were married on February 14, 1900, Valentine's Day. The newlyweds continued to live on the Strykersville farm, where their first son was born. In 1906, they decided to move to Sardina20, where they purchased a farm on Savage Rd., not far from the junction with Matteson Corners Rd. Their move was prompted, in part, to improve their livelihood -- share cropping was not particularly favorable -- and, in part, to be close to his step-father whom Floyd greatly admired.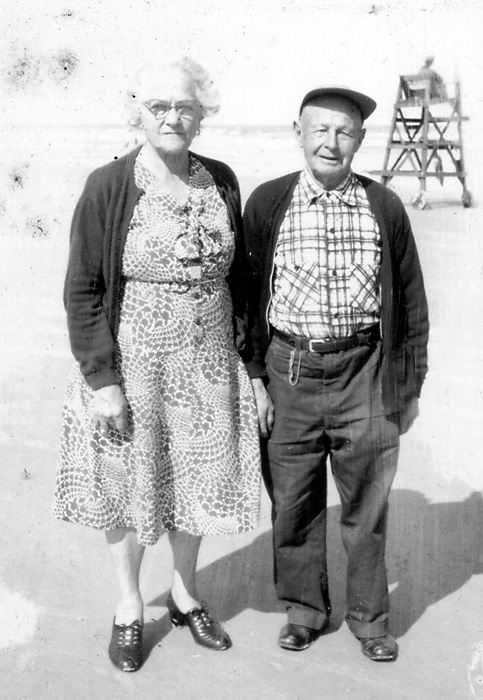 Floyd and Minnie at Daytona Beach
The Zahler farm consisted of 50 acres and was primarily devoted to dairy farming. Approximately 20 cows occupied the ground floor of the barn or roamed the pasture and wood lot on the back half of the farm. Much of the remaining land was devoted to fields of alfalfa hay, oats, and corn needed to feed the cows over winter. Typical of the times, farming included other activities designed to increase income. One or two acres near the house were used to grow potatoes and pickles, in the spring, maple syrup was produced from the wood lot and a chicken house near the barn was a source of eggs. A stand near the road offered produce to friends and neighbors, however, most of the farm's production was hauled to Buffalo for sale in the market.
Farm work, of course, was a family affair. Their sons Leigh, who never married, and Lyle helped with field work and milking, while Minnie, in addition to cooking, tended chickens and the produce stand. Winter time, however, was time for a break. Beginning about 1940, Floyd, Minnie and Leigh spent winter months in Florida, while a hired hand tended the animals. At least in later years, they would leave shortly after Christmas and return after Easter. Their habit was to stay in Daytona Beach with easy access to the beach, fishing piers and orchards. Floyd's favorite activity was fishing of the pier at Flagler Beach, and each year he would ship a basket of hand selected fruit to family and friends. These southern excursions continued into the 1960's, when Floyd was well into his 80's.
In his mid-eighties, Floyd had to "retire" from farming after rheumatism sapped his strength. Even then, however, he kept a team of horses and a few cows. Finally, as he approached 90, Floyd began to lose his mental faculties. His last two years were spent in the care of his wife, Minnie, and son, Leigh. Floyd died on April 4, 196618,22, and is buried in the Strykersville cemetery.
---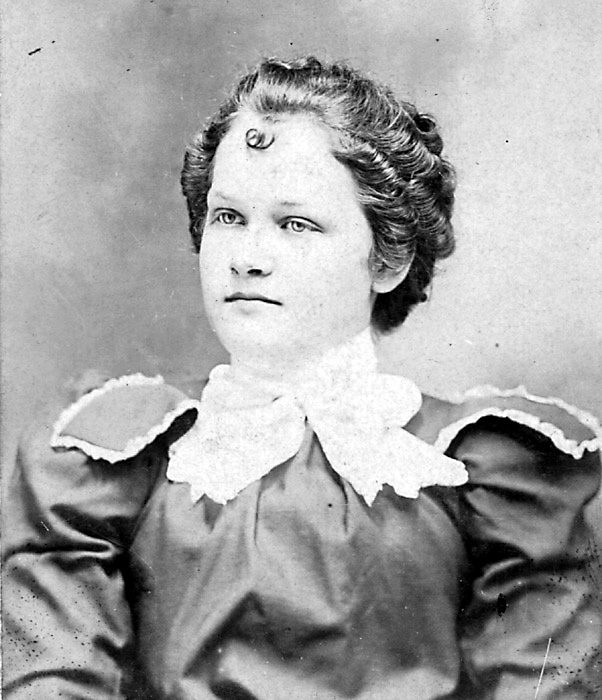 A Young Minnie Merlau
Wilhelmine Merlau was born January 9, 188222, in Wales Erie County, New York, the third child of Charles Frederick Merlau and Mary Elizabeth Kopp. She was known as Minnie throughout her life and family legend has it that she was not given a middle name because her first name was so long20. Minnie was born on a farm rented by her parents and located on Schang Rd. The property straddled the boundary between the Towns of Wales, in Erie County and Sheldon, in Wyoming County, with the house in Sheldon and the barn, with most of the farm land, in Wales. Consequently, taxes were paid to Wyoming County, however, Minnie's birth was recorded Wales.20.
While Minnie was still young, her family moved first to Wales Hollow and then finally to Sheldon, where Charles purchased his first farm20. Both the Merlau farm and that of Floyd Zahler were near Strykersville and it is likely she met Floyd frequently. As Minnie became a young adult, their friendship turned into romance and on Valentine's Day 1900, they were married. Over the next thirteen years, Floyd and Minnie had three sons: Leigh, born in 1903; Earl, born in 1907, and Lyle, born in 1913. At the age twenty months, Earl was struck by ileocolitis, a sever inflammation of the intestines, accompanied by a high fever. Every effort was made to treat his condition, including soaking in a cool bath to reduce the fever. However, Earl died on April 12, 190919, and is buried in Strykersville cemetery, next to his parents and older brother.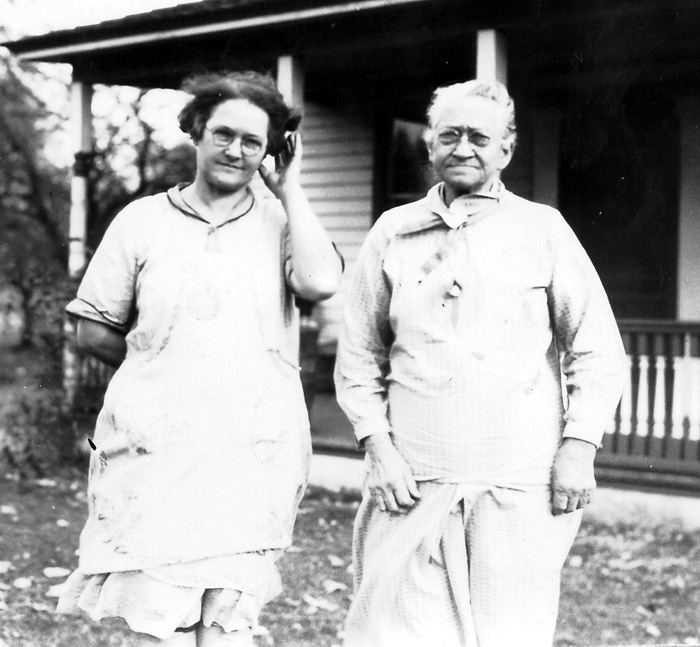 Minnie with her mother
probably 1920's
Minnie was an active partner on the Zahler farms. In addition to cooking, keeping house and raising their children, she participated in farm work, helping in the vegetable garden and tending the chickens. Her first love, however was cooking, whether it be everyday farm meals or special occasions for family and friends. Among family favorites was her bread, which she baked in her wood burning stove every weekend. And she delighted in preparing poached eggs on toast for her grandchildren when they visited.
Following the death of her husband of 66 years, Minnie continued to live on the farm with her son Leigh. Lyle added a picture window to the front room of the farm house, giving Minnie the pleasure of a scenic view. Unfortunately, a chimney fire destroyed the house soon after. Subsequently, Minnie and Leigh lived in a trailer on the site of the old house. Minnie lived for almost three years following Floyd's death. She died on January 27, 196921, and is buried in the Strykersville cemetery.
---
Top | To Zehler Surname Index | To Peter and Anna Maria Zehler | To Site Main Page