The Family of Michael Zehler and Angeline Kircsh
Second Generation
---
Michael Zehler was born July 25, 18375 in Nuhweiler, Rhine Province, Prussia, the fourth child of Peter Zehler and Anna Maria Klasen. His birth was registered the following morning at the district administrative center in Wadern5. This record is the source for his date of birth of July 25th. Michael's baptismal record4, however, gives his date of birth as July 26th, a discrepancy which is common for four of his siblings. (see Peter for additional comments).
Michael came to America in 1855, along with his sister Anna. Their names are found on the passenger list of the Samuel M. Fox, which landed in New York on April 21, 1855, with passengers Anna and Mickel Zöhler. Since Michael left Prussia in 1855, at the age of 17, it is likely he did so to avoid service in the Prussian army; a mandatory duty at the time. His departure likely caused considerable trouble for his parents, especially since his older brother, John also left for America to avoid military service. The effect on his family is part of the mystery surrounding his parent's emigration the following year.
Upon his arrival in America, Michael proceeded to join his brothers in Orleans County, New York, where he worked as a hired hand on the farm of Cornelius Thomas24. On February 3, 186425, he married Angeline Kirsch at St. Mary's Roman Catholic Church in Buffalo, New York. Angeline was born on January 15, 184393, at Selbach, Fürstentum Birkenfeld, Oldenburg, the daughter of Peter Kirsch and Barbara Dewes. After their marriage, Michael and Angeline lived in Orleans County, where he continued to work as a hired hand for Cornelius Thomas94. In 1875, they were still living in Orleans County, and Michael still worked as a farm laborer124. Then in 1876, Michael purchased a 35 acre farm on Tinkham Road, Bennington, near the Genesee County line, where he and Angeline lived for the remainder of their lives. Angeline died June 9, 19072, and Michael died January 22, 19162,95.
The child of Michael and Angeline is:
Third Generation
---
| | | |
| --- | --- | --- |
| i. | William P. Zehler | William was born in September 186633, and he died on May 22, 19388. |
---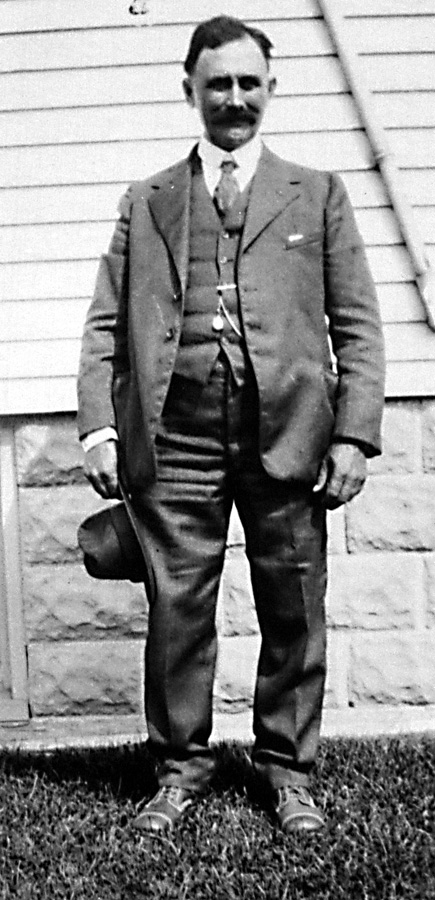 William Zehler - about 1925
---
William Zehler was born in September, 186633, probably in Clarendon, Orleans County, the only child of Michael Zehler and Angeline Kirsch. Known as Willy, he remained unmarried and lived with his parents while they were still alive. Willy worked on the family farm, which he continued to operate after his parent's deaths, and he took care of his father in his old age95. Family members who knew him indicate that Willy was deaf and somewhat eccentric. He was an avid reader and lived like a hermit, staying pretty much to himself.
William died on May 22, 19388, and left his estate to the Church and other charitable organizations. The probate papers filed in Surrogate Court seeking the distribution of his estate are interesting in that they list 35 first cousins, many of whom where related through his aunts and uncles of the Zehler family8. The record is a rich source of names and addresses for family members. William is buried in the Sacred Heart of Jesus cemetery in Bennington.
---
Top | To Zehler Surname Index | To Peter and Anna Maria Zehler | To Site Main Page
These pages are our initial attempt to capture the history and genealogy of the Zehler family. If you have comments or additional information which would add to this story, please contact us at the following address: