Catalina Perez

of Mandaue, Cebu, Philippines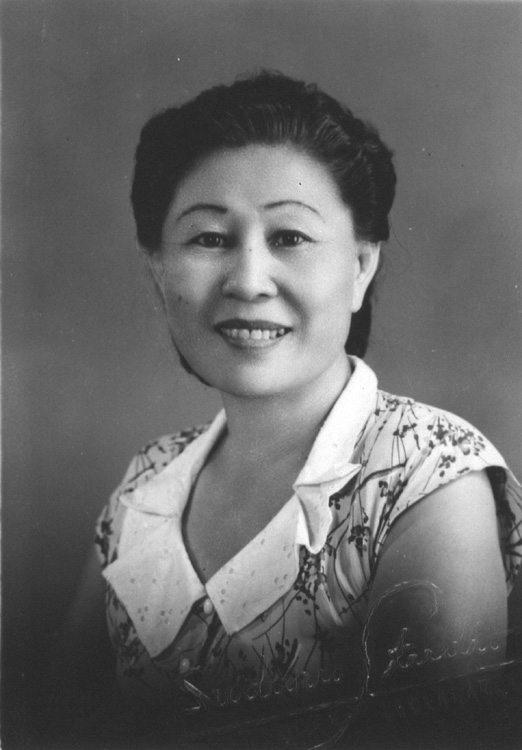 Catalina Perez, probably 1940s
---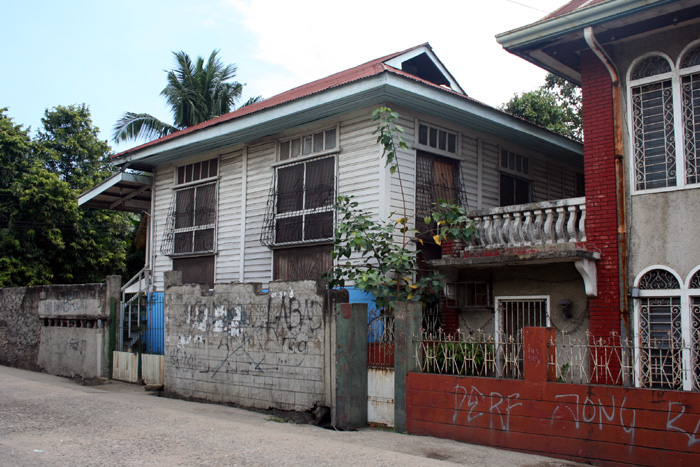 Catalina's Home
Catalina Perez was born April 30, 1900, the daughter of Catalino Seno and Bonifacia Perez.&nbsp She died on May 21, 1998, age 98 years.&nbsp 'Na Taling, as she was known, lived in Alang Alang, in the house which belonged to her mother.&nbsp The property, located on P. Burgos Street, was adjacent to that of several family members, including Isabel and Teodorico Perez and Gregorio Cortes.

Well educated, 'Na Taling, pursued a career in nursing, primarily in the public schools.&nbsp A pair of calendar-notebooks, largely used in the the 1970s and 1980s, give a glimpse of 'Na Taling's career and her personality.&nbsp Key events are summarized in the following list:
| | | | |
| --- | --- | --- | --- |
| | * 1908-? | Elementary/Secondary Education. | |
| | * 1920-1924 | St. Luke's Nursing School; Manila. | |
| | * 1924-1928 | Red Cross Nurse; Cebu. | |
| | * 1928-1941 | Supervisor of Nursing, Cebu Public Schools. | |
| | * 1941 | Supervisor of Nursing, Camarines Sur Public Schools. | |
| | * 1941-1944 | War Years; Cebu. | |
| | * 1945-1947 | Supervisor of Nursing, Camarines Sur Public Schools. | |
| | * 1947-1963 | Supervisor of Nursing, Leyte Public Schools. | |
| | * 1963-1998 | Retirement. | |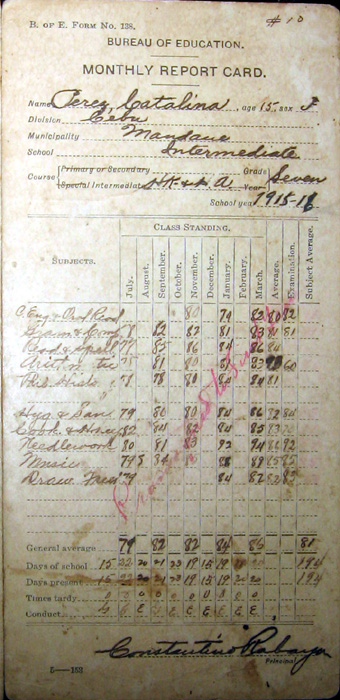 Catalina's Report Card
1915

'Na Taling's education began in the Mandaue Public Schools, where she attended Elementary and Secondary grades.&nbsp Copies of her report card for the 1913-14, 1914-15 and 1915-16 school years indicate she was a good student, with an average grade of approximately 80%.

'Na Taling continued her education by attending St. Luke's Nursing School in Manila. According to Mamerto Basilgo13 Catalina was recommended by the American employer of her uncle, Sancho Basilgo.&nbsp She successfully completed nursing school and took the Nursing Exam on April 14-16, 1924.&nbsp Her overall passing grade of 79.3% was second highest for St. Luke's Nursing School.&nbsp She continued to take educational course work throughout her professional career, including two years of secondary course work at Naga Teachers College.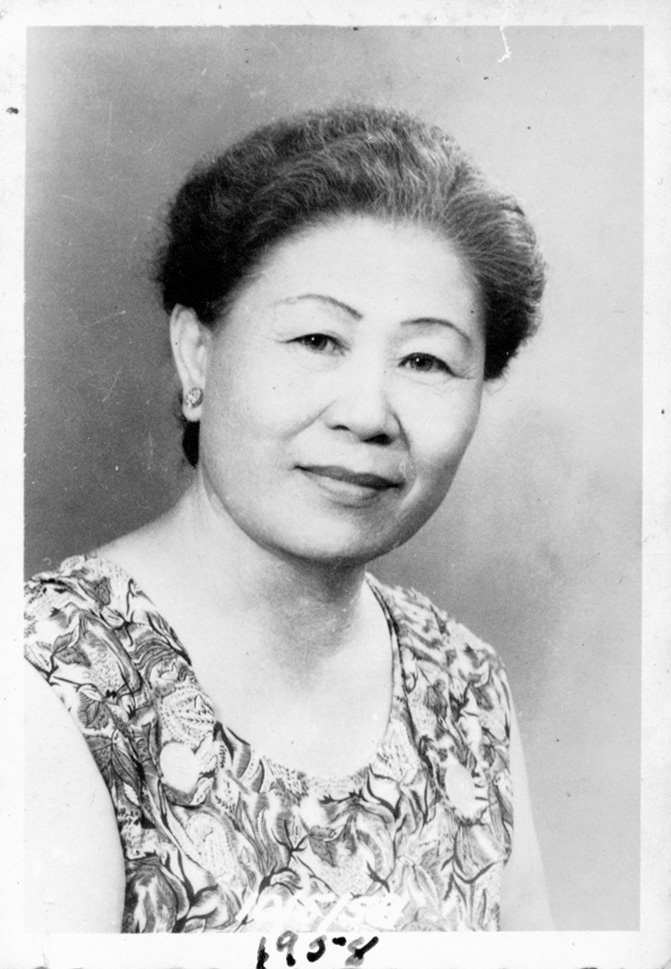 Catalina Perez about 1958

Catalina's initial appointment was as a Red Cross Public Health Nurse in Cebu City, which she began in 1924.&nbsp Then in October 1927, she received a letter from B. Frilden Nutter, the Division Superintendent of Schools in Cebu with an offer to become the Supervising Teacher of Hygiene and Sanitation for the Division.&nbsp Her initial salary was 1,080 Pesos per year, with travel allowance of 30 Pesos per month.&nbsp With clearance from the Red Cross, Catalina accepted this new position and began work in January 1928.

Catalina served as Supervising Teacher of Hygiene and Sanitation until the middle of 1941.&nbsp At this point, she was transferred to Camarines Sur, again as Supervisor of Nursing in the Public Schools.&nbsp As indicated below, this transfer was for cause.

Her first tour in Camarines Sur was cut short by the Japanese attack in December, and Catalina returned to Cebu for the duration of the war.&nbsp She resumed her duties in 1946.&nbsp It was during this period that she completed classes at Naga Teachers College.&nbsp Then, in 1949, Catalina was transferred to Leyte, where she again served as Supervisor of Nursing in the Public Schools.&nbsp In October 1963, she took terminal leave from her supervisor position and finally retired in April 1964, returning to Mandaue.

'Na Taling's career was not all smooth sailing.&nbsp She was a strict disciplinarian and expected much of the nurses and teachers under her charge.&nbsp The following excerpt from a letter written by a co-supervisor explains the important contributions Catalina effected in Cebu, but also highlights some of the problems she created.
| | | |
| --- | --- | --- |
| | At that division staff conference, Miss Perez was appraised of the serious problem of health in the schools, no clinics, no toilets, and no first-aid teachers.&nbsp General cleanliness was poor.&nbsp Miss Perez saw the immensity of the health problem.&nbsp With unselfishness and enthusiasm, health work was organized, clinics began to be constructed, medicines and medical supplies were available.&nbsp The five phases of school health programs were implemented.&nbsp Water facilities were provided in all schools.&nbsp Sanitary toilets were constructed.&nbsp They were screened from public view for privacy.&nbsp First-aid teachers were appointed and trained.&nbsp Health instruction was emphasized.&nbsp The nurses religiously stuck to their itineraries.&nbsp But the prize for these improvements of the health activities was the vituperative insults heaped upon her.&nbsp Those who were inclined to go home everyday and report late to duty, leave their station ahead of time found in Perez a strict disciplinarian.&nbsp Those who zealously performed their duties were her friends.&nbsp Many a time she has been accused of favoritisms by many.&nbsp I agree with them.&nbsp She has her favorites among those who, like her, are doing their duty well regardless of the cost in time, money, and health.&nbsp There was once upon a time a nurse who lost her life in the service of those soldiers who suffered during the Crimean War.&nbsp She was called the white angel. | |
The letter nicely reflects the strict discipline and high standards she maintained.&nbsp These characteristics were undoubtedly important to her success in improving conditions in the public schools.&nbsp However, her strictness clearly caused problems as indicated by this excerpt from a letter written to the Division Superintendent in Leyte by the Director in Manila.
| | | |
| --- | --- | --- |
| | ...and Miss Perez transfer from Cebu to another division before the war was for cause.&nbsp She was found guilty of maltreating and humiliating her subordinates... | |
Catalina's high expectations and strictness carried over into her personal life.&nbsp In particular, she was proud of her Perez heritage, calling her grandfather Don Ignacio in respect of his standing in society.&nbsp Catalina would often regale guests with tales of her suitors, including many prominent residents of Mandaue.&nbsp Twice in her notes, she listed 25 suitors, beginning with a seventh grade classmate and extending through her professional career.&nbsp Sadly, none lived up to her expectations, and she remained single throughout her life.&nbsp Catalina's pride also led her to disapprove of the marriage of close relatives, whom she felt were marrying beneath themselves.&nbsp This included her brother Carlos, whose marriage to a school teacher she initially opposed.
---
These pages are our initial attempt to capture the history and genealogy of the Perez family. If you have comments or additional information which would add to this story, please contact us at the following address: