The Family of Johann Ehman and Anna Barbara Faulring
Second Generation
---
Anna Barbara Faulring was born on May 10, 1836, in Moggenbrunn, Saxony Coburg Coburg-Gotha1, the daughter of Johann Friedrich Faulring and Anna Margaretha Zapf and was baptized in the Church at Meeder on May 29th1. She received her early upbringing there and undoubtedly worked with her mother on the family farm. In October of 18535, Barbara left Moggenbrunn with her parents and emigrated to America. After a 51 day voyage, they arrived in New York on January 9, 18546.
About 1858, Barbara married Johann Ehman. Johann was born on August 25, 1833, in Konigsburg, Wüttemburg, Germany, the son of Jacob Frederick Ehman and Augusta Hauffman51. The Ehman family immigrated from Württemberg in the early 1850's. As part of the German American community which settled in southern Erie County and Cattaraugus County, New York, Barbara and John probably meet at social events and market days.
Prior to their marriage, John had worked as a lumberman. Subsequently, he took up farming and they settled first in Ashford and eventually in Ellicottville, both in Cattaraugus County, New York. Between 1858 and 1876, Barbara and John had eleven children. Barbara died on March 24, 188152, and is buried in Mt. Hope Cemetery, West Valley, New York. Following Barbara's death, John remarried to Dorothea Angermueller, with whom he had 6 more children. John died on December 18, 189652, and is also buried in Mt. Hope Cemetery, Ashford, New York.
The family of John and Barbara Ehman consisted of:
Third Generation
---
| | | |
| --- | --- | --- |
| i. | Andrew Ehman | Andrew was born on June 2, 185952, and he died on March 12, 193552. Andrew married Caroline Brown. |
| ii. | John Stanley Ehman | John was born on January 19 186151, and he died on December 25, 192950. John married Ida Barbara Rohrich. |
| iii. | Frederick J. Ehman | Frederick was born on May 17, 186252, and he died on August 31, 194052. Frederick married Martha Elizabeth Truby. |
| iv. | Casper Chauncy Ehman | Casper was born on April 19, 186352, and he died on February 23, 193952. Casper married Caroline Louise Rohrich. |
| v. | Christian Ehman | Christian was born on September 20, 186452, and he died on November 12, 194052. Christian married Caroline Angermueller. |
| vi. | Charles B. Ehman | Charles was born on November 17, 186652, and he died on December 29, 192152. |
| vii. | Louis Ehman | Louis was born on March 4, 186751, and he died on January 31, 192950. Louis married Flora Pfarner. |
| viii. | Edward Ehman | Edward was born on December 25, 187052, and he died on September 1, 194352. He married (1) Mary Elizabeth Brunell, and (2) Clara Magdalena Klein. |
| ix. | Mary Barbara Ehman | Mary was born on April 10, 187151, and she died on September 21, 194150. Barbara married John Derx. |
| x. | Louise M. Ehman | Louise was born on November 28, 187350, and she died on September 17, 193710. Louise married Edward A. Pfarner. |
| xi. | Augusta Mary Ehman | Augusta was born on October 28, 187651, and she died on April 4, 196050. Augusta married Wesley C. Willis. |
---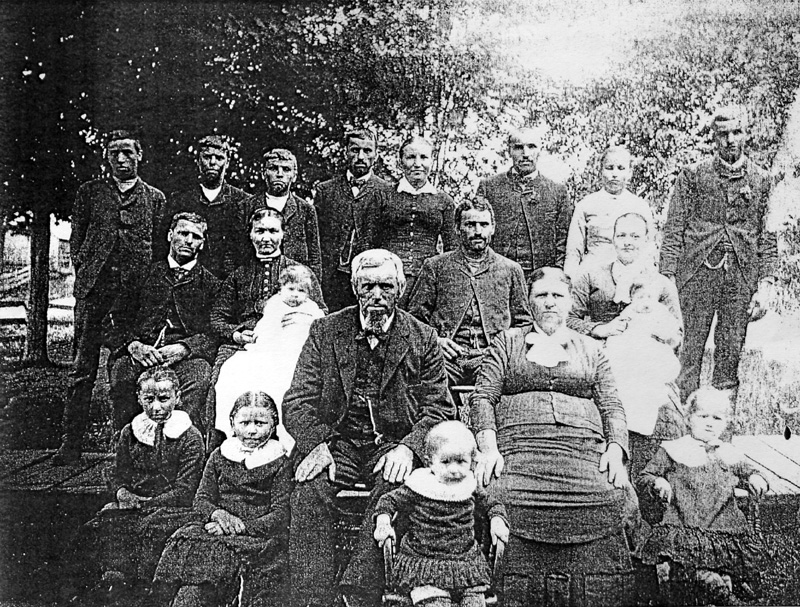 Family of John Ehman - 1885
---
For further information on the family of Johann Ehman and Barbara Faulring use this link
---
Top | To Faulring Surname Index | To Friedrich and Margaretha Faulring | To Site Main Page
These pages are our initial attempt to capture the history and genealogy of the Faulring family. If you have comments or additional information which would add to this story, please contact us at the following address: