The Family of Alexander Hale and Neuel Margaret Kimball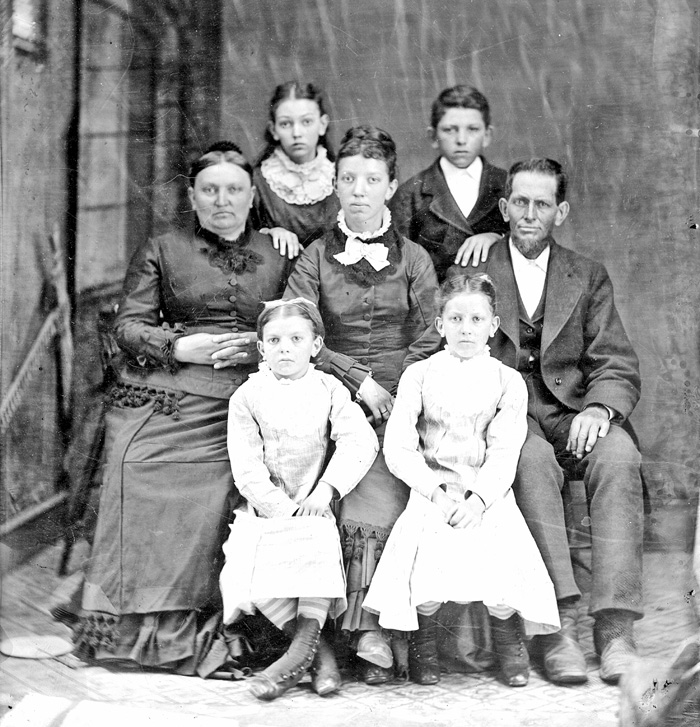 Family of Alexander and Neuel Hale
---
Alexander Hale
Alexander Hale born on January 22, 1833, in North Collins, New York, the son of Isaac Hale and Phoebe Pratt66. He grew up on the family farm. In 1850, at the age of 17, he was described as a farmer67, and in February of 1857, around the time he married, Alexander purchased a 164 acre farm in North Collins for $700059, a considerable amount for a 24 year old. The deed contained an exception of one and one-half acres, known as the Friends Meeting House and Burying Ground Lot.
About 1857, Alexander married Neuel Margaret Kimball. Neuel was born on January 1, 183466, the daughter of Elijah Kimball and Nancy Knox, of Schoharie County, New York. In 1860, Alexander and Neuel were living on his farm in North Collins, with two children85. They continued to live on the family farm for the remainder of their lives86.
Alexander died on October 10, 1892p>66, and Neuel died in 1893p>66.
The children of Alexander and Neuel are:
---
| | | |
| --- | --- | --- |
| i. | Alice Elizabeth Hale | Alice was born on March 10, 185814, and she died on September 10, 188714. Alice married Oliver Warren Needham. |
| ii. | Clara L. Hale | Clara was born on June 10, 186166, and she died on May 8, 187866. |
| iii. | Horace Kimball Hale | Horace was born on April 14, 186366, and he died on November 28, 193466. On May 10, 1896, Horace married Clara Bartlett Green66. Clara was born on October 13, 186466, and she died on June 10, 193566. Horace and Clara had two children. |
| iv. | Lizzie M. Hale | Lizzie was born on July 8, 186666, and she died on June 27, 189566. On November 1, 1887, Lizzie married Louis A. Bartlett66. Louis was born on September 2, 186266, and he died on July 29, 195466. Louis and Lizzie had two children.. |
| v. | Eunice Hale | Eunice was born on April 26, 186966, and she died on March 4, 190566. Eunice married Wilson R. Ansley. |
---
Top | To Needham Surname Index | To Oliver and Lodisa Needham | To Site Main Page
These pages are our initial attempt to capture the history and genealogy of the Needham family. If you have comments or additional information which would add to this story, please contact us at the following address: