The Family of Philip Greff and Anna Mary Zehler
Second Generation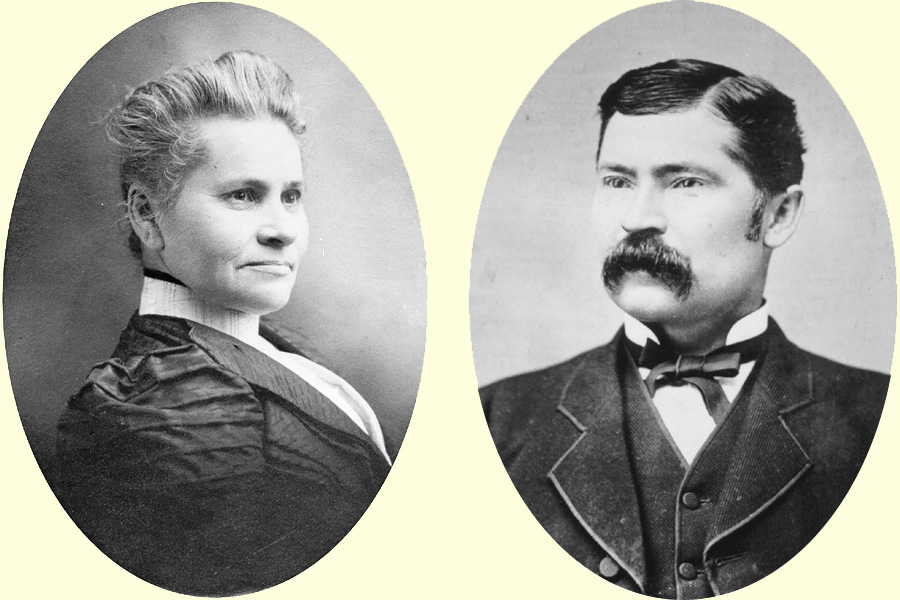 Philip and Mary Ann Greff
---
Anna Maria Zehler was born in Nuhweiler, Rhine Province, Prussia, and came to America in 1856, with her parents. In January 18732, she married Philip Greff and settled in Bennington, New York.
The children of Mary Ann and Philip are:
---
Third Generation
| | | |
| --- | --- | --- |
| i. | Clarence Henry Greff | Clarence was born on November 30, 18732, and he died on May 18, 195442. Clarence married Blanche English. |
| ii. | Katherine Lucretia Greff | Katherine was born on January 31, 18752, and she died on May 12, 193143. Katherine married Frank Currier Salisbury. |
| iii. | Philip H. Greff | Philip was born on September 24, 18772, and he died on October 3, 196940. Philip married Bertha Fellows. |
---
Anna Maria Zehler was born November 1, 18474,5, in the tiny village of Nuhweiler, the ninth child of Peter Zehler and Anna Maria Klasen. She was baptized the same day. Anna Maria spent her early years with her family in Nuhweiler. Then, at the age of six and a half, she accompanied her parents on the long journey to America. The remainder of her youth was spent with the family in Bennington, New York. Throughout her life in America, Anna Maria was known as Mary Ann, or Mary.
In January 1873, Mary Ann married Philip Greff at Sacred Heart of Jesus Catholic Church in Bennington2. Philip was born about 1843187, in Nothum, Belgium, the son of William Greff and Anna Gaugle. The Greff family had immigrated about 1855 and settled in Sheldon, New York.
Philip and Mary Ann initially settled in Bennington where they began farming. In 1880187, they were living in Bennington on a farm near other family members. Shortly after 1880, Philip and Mary Ann moved to Attica, New York, where their children attended the local school188. It is likely that Philip continued farming. Philip died there on April 27, 18898. Mary Ann inherited her husband's property and in July of 1889, she joined with her sister Anna and brother-in-law, to purchase two plots of land in Bennington, at auction23.
In 1891189, Mary Ann moved to Warsaw, New York, where she lived for the remainder of her life. She probably delayed her move until after her son, Clarence, graduated from Attica High School. In 1900, she was living in Warsaw, along with her three children, all of whom were working and in 1910, her son Clarence was still living in her house. Anna died in Warsaw on December 12, 1927189.
---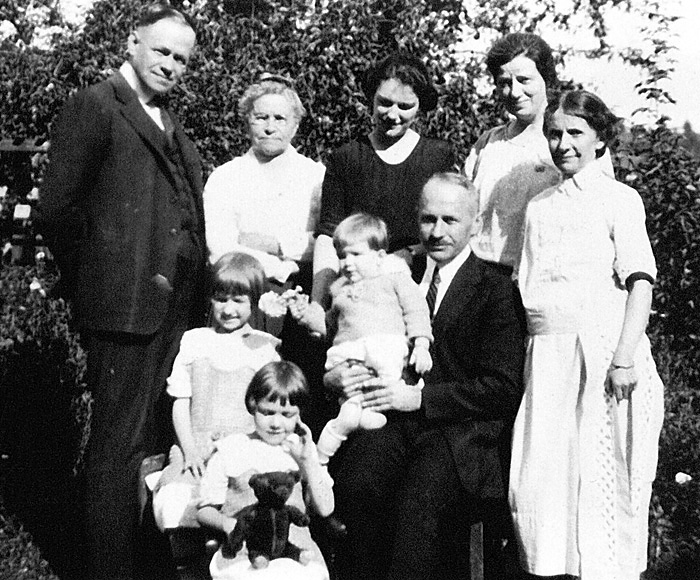 Family of Philip and Mary Ann Greff - about 1921
Back Row: Clarence Greff, Mary Ann (Zehler) Greff, Bertha (Fellows) Greff, Blanche (English) Greff
Middle Row: Betty Salisbury, Philip Greff (holding Louise Greff), Katherine (Greff) Salisbury
Front Row: Jeanne Salisbury
---
Top | To Zehler Surname Index | To Peter and Anna Maria Zehler | To Site Main Page
These pages are our initial attempt to capture the history and genealogy of the Zehler family. If you have comments or additional information which would add to this story, please contact us at the following address: