The Family of Phillip Trevett and Eliza Needham
Eighth Generation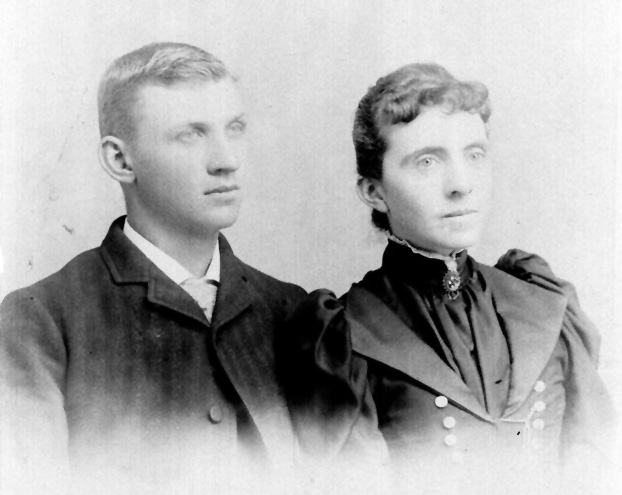 Phillip and Eliza Trevett
---
Hester Eliza Needham was born on August 15, 1862, the fifth child of Charles Needham and Eveline Martin14. Eliza, as she was known, grew up on the family farm in the Town of Concord, New York, and she continued to live with her parents until the age of 3039. On February 28, 189339, Eliza married Phillip S. Trevett at Jamestown, Cautauqua County, New York. Phillip was born on December 26, 186714, the son of Lewis S. Trevett and Harriet Irene Salls. At the time of his marriage, Phil was living with his widowed mother in Concord, New York, working the family farm along with his younger brothers. It is not known why Phil and Eliza traveled some 60 miles to wed.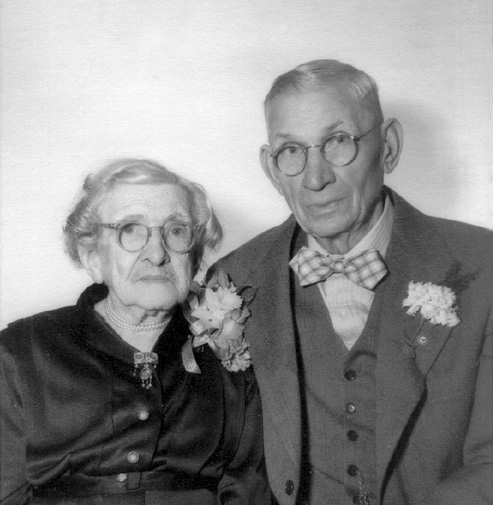 Phil and Eliza
Following their marriage, Phil ane Eliza settled in Boston, New York, very likely living with her parents, with Phil helping on the farm. In 1898, Eliza's brother, Warren, sold them 6 acres of land near the family farm59, perhaps to build a house. Over the next several years, Phil and Eliza were able to purchase the family farm59, where they spent their life. Eliza's mother lived with them until her death in 1908. One of the important products of the Trevett farm was the maple syrup produced each spring. At the end of the syrup season, family would gather at the Trevett home and Eliza would preside over "sugaring off". Family members and friends would gather around the living room and, after syrup was concentrated by further boiling, everyone would wipe some of the concentrate until maple sugar formed. After sampling, the sugar was molded into the shape of maple leaves and kept for later enjoyment.
In her old age, Eliza became the matriarch of the Needham family. She was the center of attention at the annual Needham Reunion, and she was the keeper of the Needham family history. It is through her efforts that we have such family hierlooms and Abner Needham's powder horn. Both Phil and Eliza lived into their ninties. The picture at left was probably taken on their 60th wedding anniversary. Phillip died on May 8, 195814, and Eliza died on February 12, 196114.
The children of Phillip and Eliza are:
Ninth Generation
---
| | | |
| --- | --- | --- |
| i. | Harry Needham Trevett | Harry was born on July 1, 189414, and he deid on May 5, 191414. |
| ii. | Glenn Alton Trevett | Glenn was born on December 18, 189614, and he died on April 12, 198514.&nbsp Glenn married Clara Weisser. |
| iii. | Ruth Eliza Trevett | Ruth was born on October 18, 189814, and she died on December 15, 199314.&nbsp Ruth married Julius Frederick Meyer. |
| iv. | Ivan Mark Charles Trevett | Ivan was born on October 9, 190414, and he died on January 24, 190514. |
---
Top | To Needham Surname Index | To Oliver and Lodisa Needham | To Site Main Page
These pages are our initial attempt to capture the history and genealogy of the Needham family. If you have comments or additional information which would add to this story, please contact us at the following address: