The Family of Charles Needham and Eveline Martin
second Generation
Charles and Eveline Needham - about 1870
---
Charles Needham was born on October 2, 1817, in Stafford, Connecticut, the second child of Oliver Needham and Lodisa Green3. When two years old, he moved with his parents and older brother to Concord Valley in Erie County, New York. Charles boyhood years were spent on the family farm getting a practical education in farming and a formal education in District School3. About 1838, Charles went to Wales, Massachusetts (formerly South Brimfield), where his parents were born. He spent a year there, visiting relatives and working for an uncle3.
On October 16, 1845, Charles was married to Eveline Glorvina Martin by Reverend Potter in Evans, New York3. Eveline was born on December 13, 1825, at Fort Ann, New York, the daughter of Alanson Martin and Rebecca Polly13. Eveline and her family moved to Evans in the 1830's and settled in Eden, New York.
For a time, Charles and Eveline lived with his parents. However, they soon bought a farm just north of his father's, where they lived for several years. Then, in 1870 Charles sold his farm and purchased 25 acres down the valley near Fowlerville3. Charles and Eveline kept a few hens, a horse and two cows. Milk production during the summer was taken to the nearby Dye cheese factory. Eveline would sometimes take in boarders to supplement the family's income3.
Eveline was a fine needlewoman. She quilted many many beautiful patchwork quilts, did other fine needlework and hand made shirts3. She was much admired by family and friends.
On April 14, 1879, after living in Fowlerville for over 8 years, Charles and Eveline traded their farm for a 140 acre farm in Boston, New York, owned by William Twitchel3. Charles died there on March 28, 189713. After Charles death, Eveline lived with her daughter Eliza Trevett and her family. Eveline died on April 10, 190813.
The children of Charles and Eveline were:
---
Third Generation
i.
David Mason Needham
David was born on March 17, 184714, and he died on October 14, 187614. David married Olive B. Fuller.
ii.
Lydia Rebecca Needham
Lydia was born on May 1, 184914, and she died on January 27, 192614. Lydia married William E. Dye.
iii.
Laura Alice Needham
Laura was born on September 6, 185114, and she died on December 3, 186714.
iv.
Oliver Warren Needham
Warren was born on October 17, 185514, and he died on October 19, 194514. Warren married Alice Elizabeth Hale.
v.
Hester Eliza Needham
Eliza was born on August 15, 186214, and she died on February 12, 196114. Eliza married Phillip S. Trevett.
---
Descendants of Charles and Eveline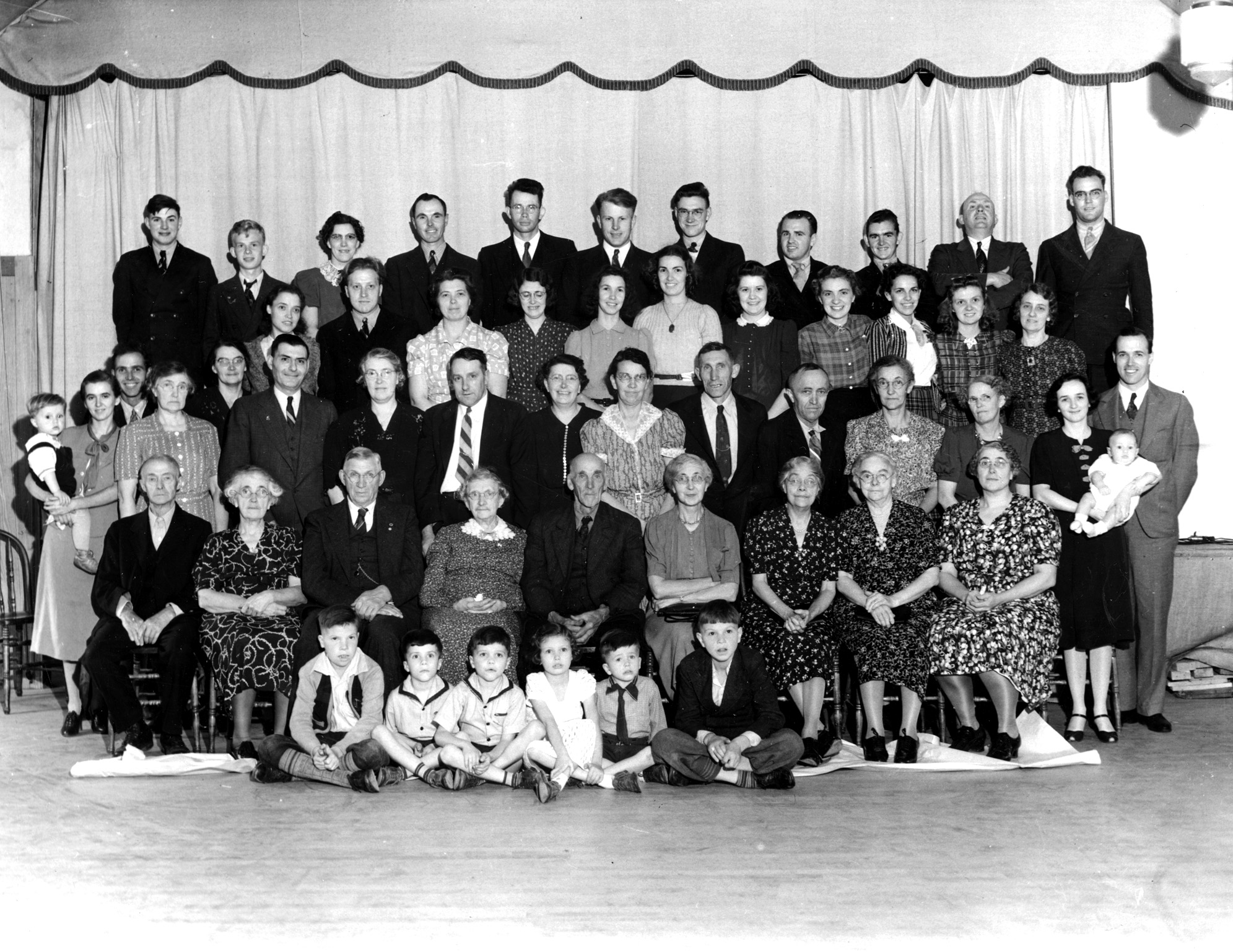 Needham Family Reunion - 1940
---
Top | Zehler Surname Index | Needham Main Page | America Main Page | Site Main Page
These pages are our initial attempt to capture the history and genealogy of the Zehler family. If you have comments or additional information which would add to this story, please contact us at the following address: