The Family of William Dye and Lydia Needham
Eighth Generation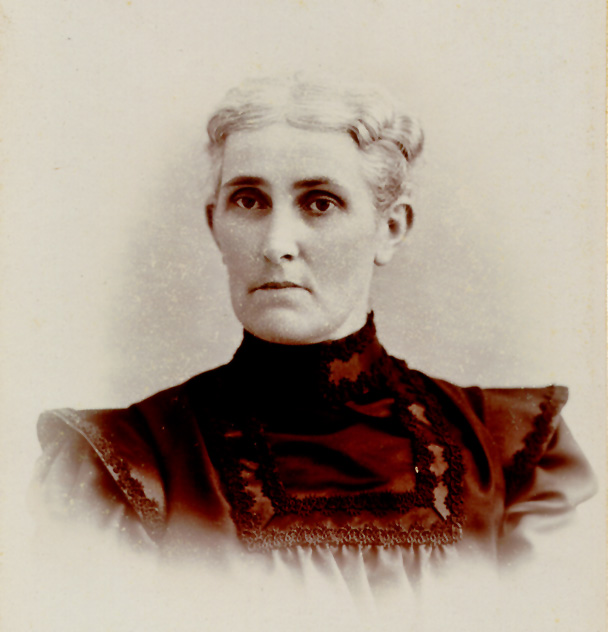 Lydia Needham
---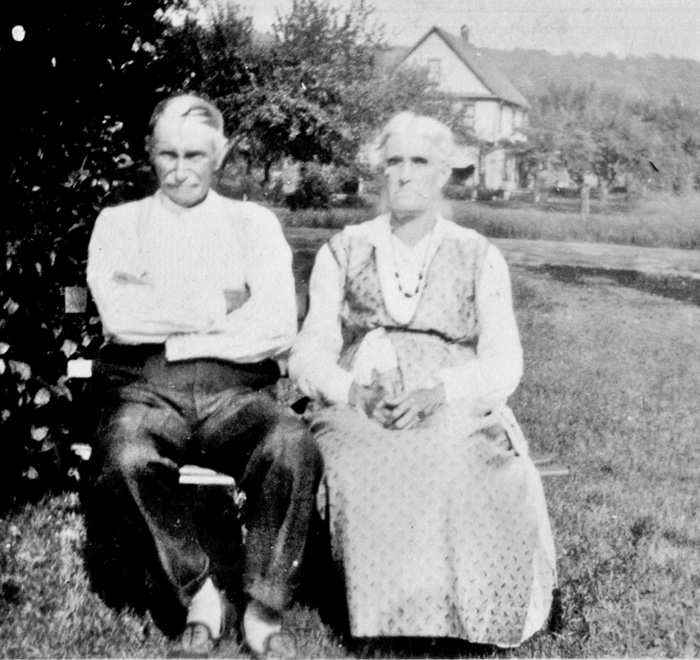 William and Lydia Dye - 1922
Lydia Rebecca Needham was born on May 1, 1849, the second child of Charles Needham and Eveline Martin34.&nbsp She grew up on their family farm in the Town of Concord, New York. On December 31, 1873, Lydia married William Edward Dye34. William was born on September 10, 184814, the son of Ruben Dye5,35. He had previously married Lydia's cousin, Maria Needham, daughter of Aaron Green Needham and Sarah Canfield36. Maria died in 18713, shortly after her marriage to William Dye.
After their marrriage, William and Lydia began their life together farming a rented farm in the town East Hamburg, New York37 (now Eden). An inventory of this farm is recorded in the 1875 New York State Census37. The farm consisted of 25 acres, 23 of which were improved land with rest woodland. About 12 acres were devoted to pasture and hay production; 1 acre was devoted to corn, yielding 25 bushels; and 2 acres were devoted to potatoes, yielding 250 bushels. William and Lydia had 3 milk cows, which produced 600 pounds of butter. Finally, the farm had 750 pear trees and 26 black raspberry bushes. This suggests William and Lydia had a modest start together, which took advantage of a variety of opportunities to earn a living.
In 1880, William and Lydia were living in Bordell Village, in McKean County, Pennsylvania, south of Erie 38. William was trying his hand as a retail grocer. However, by 1892, William and his growing family were back in Concord, New York, and he was working a general farm39. Apparently, the Grocery business didn't work out. The 1900 Census21 shows that William and Lydia took out a mortage to purchase their farm, and by 1910 the mortage was paid off42. They continued to work their farm until sometime after 191540. By 1920 they had moved to Boston, New York41, where they worked a garden farm, presumably growing vegetables and fruit for the local market41. Their umarried daughters Edna and Susie were living with them.
Lydia Died on January 27, 192634. William continued to live in Boston with his unmarried daughter Edna and to work a dairy farm42. William died on August 11, 193434.
The children of William and Lydia were:
Ninth Generation
---
| | | |
| --- | --- | --- |
| i. | Mary Olive Dye | Mary was born on February 20, 187534, and she died on January 14, 195834. Mary married Dee Ansel Blakely. |
| ii. | Eva Louise Dye | Eva was born on October 3, 187614, and she died on August 14, 196934. Eva married Frank W. Lewis. |
| iii. | Edward Mason Dye | Edward was born on August 14, 187835, and he died on February 6, 196735. Edward married (1) Franc Collbury and (2) Rowena Ehle. |
| iv. | Edna Merle Dye | Edna was born on November 20, 188035, and she died on June 6, 197534,35. Edna remained unmarried. |
| v. | Flora Betsy Dye | Flora was born on December 24, 188235, and she died on February 11, 197535. Flora married Frank H. Keen. |
| vi. | Eunice Marie Dye | Eunice was born November 16, 188434, and she died on September 23, 195634. Eunice married Newton Adams Trevett. |
| vii. | Georgiana Henrietta Dye | Georgiana was born on October 3, 188614, and she died on December 21, 196914. Georgiana married Raymond E. Endress. |
| viii. | Susan Vina Dye | Susan was born on September 12, 188834, and she died on September 20, 197134. Susan married Fred L. Blanchard. |
---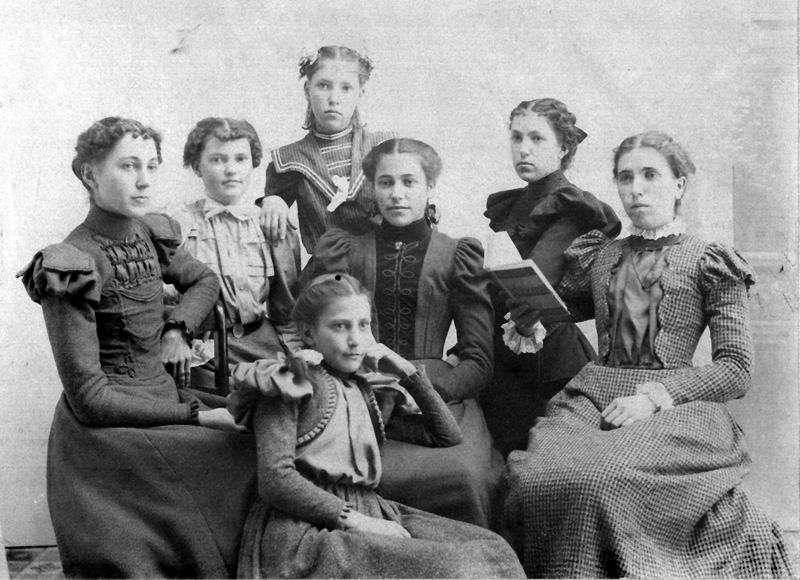 Young Dye Girls - about 1895
---
Top | To Needham Surname Index | To Oliver and Lodisa Needham | To Site Main Page
These pages are our initial attempt to capture the history and genealogy of the Needham family.&nbsp If you have comments or additional information which would add to this story, please contact us at the following address: