Family of Charles Frederick Merlau and Mary Elizabeth Kopp
Second Generation
Mary Merlau
---
Charles Frederick Merlau was born on November 12, 18484, in Sheldon, New York, the first child of Johann Karl Merlau and Maria Christina Zapf. He grew up on the family farm on Goose Hill Road. He undoubtedly helped on the farm, as well as attending school. By 1870, at the age of 31, Charles was working as a farm laborer, living on the farm of John Friend. Presumably, he was earning the money needed to purchase a farm of his own.
On June 20, 1872, Charles married Mary Elizabeth Kopp at St. John's Evangelical and Reform Church in Sheldon2. Mary was born about 1850 in Sheldon, the daughter of Michael Kopp and Anna Maria Heberle. Mary's parents were immigrants from Hesse-Darmstadt and Alsace, respectively, who met and married in Sheldon. After their own marriage, Charles and Mary settled in Sheldon where they began a life of farming.
The 1875 New York Census14 lists Charles F. Merlau as owner of a farm in Sheldon and gives a snap shot of its operation. Charles and Mary's farm, consisting of seventy-three acres, was valued at $2300, while buildings were worth $200; live stock, $500; and tools and implements, $200. These valuations suggest that Charles had borrowed a significant amount to money to purchase the farm. Most of the land, fifty-two acres, was used to plant in crops, including wheat, oats, barley, corn and potatoes. An additional twelve acres were devoted to meadow, grazed by seven cows, two heifers, two horses and six sheep. In addition, Charles and Mary had 2 pigs and chickens. Adding twelve acres of woods, this leaves about one acre for buildings, vegetables and orchard. In 1874, the farm yielded gross sales of $230.
It would appear that Charles initial try at farming was unsuccessful, since, in 1880, the family was living in the Town of Wales, Erie County, New York15. Leigh Zahler, Charles grandson, remembered that Charles rented a farm on Schang Road near Wales Center, and later lived near Wales Hollow on another rented farm16. He also recalled that Charles later purchased a farm on Factory Road, which straddled the boundary between Wales and Sheldon, with most of the farm in Wales and the buildings in Sheldon16. This is confirmed by the land records of Erie32 and Wyoming28 counties. Leigh also recalled that Charles sold 4 or 5 acres of the land on his farm to a neighbor, because he was so heavy in debt16, further indicating Charles' early difficulties in making a go of farming.
Charles continued to work the farm on Factory Road until his death in 19084,8. After Charles' death, Mary continued to live on the farm with her children, Nettie and Herbert19. Then in 1920, she was living with Herbert and his wife Mertie20, on their farm. Finally, in 1930, the year before her death, Mary was living with her daughter Minnie and son-in-law, Floyd Zahler21, in Sardinia, New York.
The children of Charles and Mary are:
Third Generation
---
| | | |
| --- | --- | --- |
| i. | George Andrew Merlau | George was born on April 29, 18761, and he died on August 10, 18761. |
| ii. | Nettie Louise Merlau | Nettie was born on September 10, 18781, and she died on June 29, 196217. Nettie married Cyrus Lee Casey. |
| iii. | Wilhelmina "Minnie" Merlau | Minnie was born on January 9, 18821, and she died on January 27, 196917. Minnie married Floyd Eugene Zahler. |
| iv. | Herbert Adolph Merlau | Herbert was born on November 1, 18851, and he died on August 23, 196318. Herbert married Mertie V. Nichols. |
| v. | unknown child | As shown by the U.S. Census8, Charles and Mary had a fifth child, whose name and birth date are not known. This child must have died young. |
---
The Family of Charles Merlau - about 1916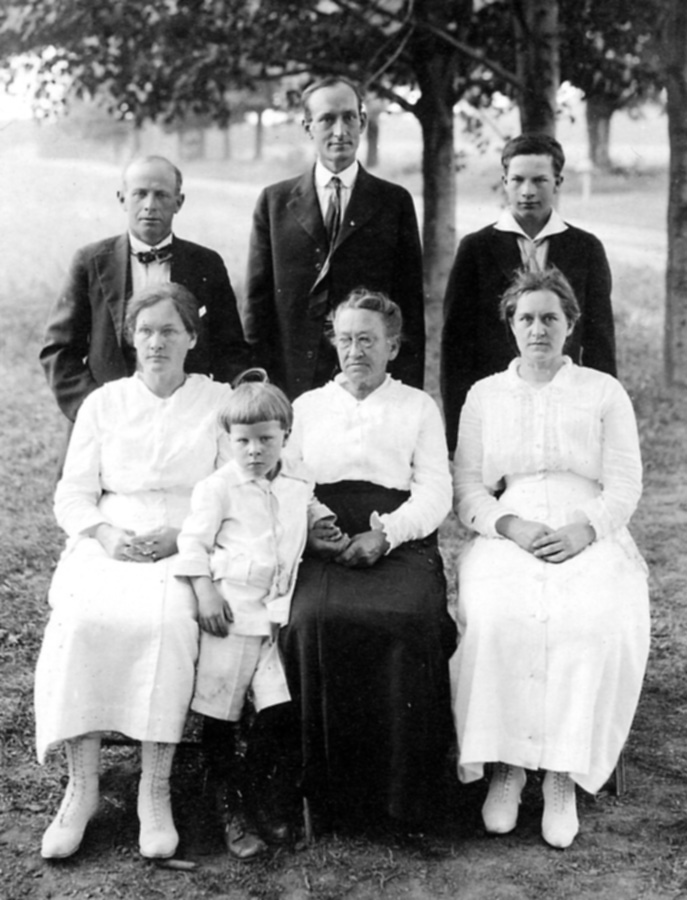 Front Row (left to right):&nbsp Minnie Merlau Zahler, Lyle Zahler, Mary Kopp Merlau and Nettie Merlau
Back Row (left to right):&nbsp Floyd Zahler, Herbert Merlau and Leigh Zahler
---
Top | To Merlau Surname Index | To Karl and Christina Merlau | To Site Main Page
These pages are our initial attempt to capture the history and genealogy of the Zehler family. If you have comments or additional information which would add to this story, please contact us at the following address: