The Family Frederick Zehler and Alice Perry
Second Generation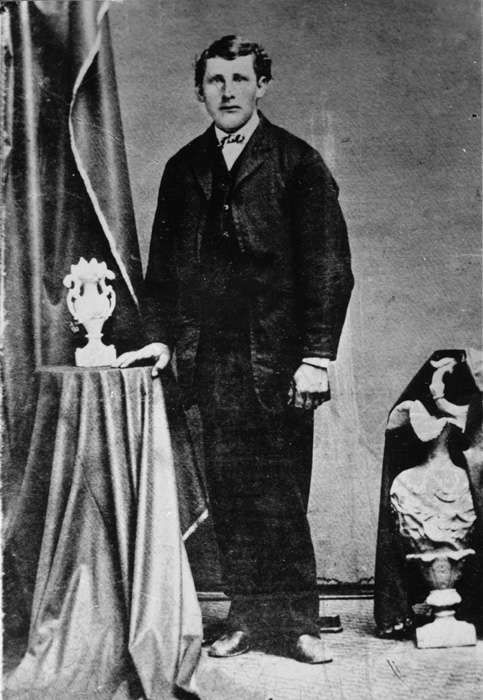 Frederick Zehler - late 1860s
---
Frederick Zehler was born in Nuhweiler, Rhine Province, Prussia, and came to America in 1856, along with his parents and siblings. On October 31, 187215, he married Alice E. Perry and moved to Big Rapids, Michigan. Their only child was born there the next year.
The child of Fred and Alice is:
Third Generation
---
| | | |
| --- | --- | --- |
| i. | Floyd Eugene Zahler | Floyd was born on July 24, 187311, and he died on April 4, 1966. Floyd married Wilhelmine "Minnie" Merlau. |
---
Frederick William Zehler was born September 19, 18494,5, in the tiny village of Nuhweiler, the tenth child of Peter Zehler and Anna Maria Klasen. Frederick's baptismal record provides an interesting insight into his family's story; he was named after the reigning King of Prussia, Friedrich Wilhelm IV. This is unexpected since, at that time, Saarlanders did not particularly care for the Prussians. In 1815, well within peoples' memory, the Saar was awarded to Prussia by the Congress of Vienna as part of the Rhine Province, resulting in a new, unpopular Prussian administration.
Why this deference to the King? A likely answer involves Fred's oldest brother, John, who emigrated to America in 1848. This seemingly innocent action was in fact illegal, since John had not completed the mandatory, two years military service, nor did he have official permission to leave. John's leaving undoubtedly caused great difficulty for his family. Thus, it seems likely, Frederick was named after the King to help placate Prussian administrators.
Fred spent his early years on his parents' farms, both at Nuhweiler and in Bennington, New York. After coming to America in 1856, Fred would certainly have shared in the farm work on his father's farm. And, as a young man, Fred worked as a farm hand for William Salisbury in the Town of Murray, Orleans County, New York16.
Around this time, Fred was attracted to Alice Perry, who lived on the neighboring Warren farm. The Warren farm was located up the hill along the Cayuga creek and was operated by her father, Williams Perry, son-in-law of the owner. At that time only a farm road ran through the woods which separated the two farms. This road, however, was commonly used by the uphill neighbors as a shortcut to town and later became the route of Manley Road, over the strong objection of the Zehler family.
As fate would have it, Fred and Alice fell in love. However, a major impediment threatened their romance; he was Roman Catholic and she was Protestant. For this reason, Fred's parents were strongly opposed to their relationship, let alone any thought of marriage. Fred and Alice's solution to this dilemma was to elope. They were married on October 31, 187215, probably by a justice of the peace, and proceeded to settled in Big Rapids, Michigan. Their new home was not chosen at random, since two of Fred's brothers, John and Martin, were already living in Big Rapids. It would appear these brothers were more tolerant of Fred's marriage.
In addition, their marriage led Fred's father, encouraged by most of Fred's siblings, to essentially cut Fred out of his will. Peter Zehler's will reads, in part:
".. to each of my named an equal share or to their heirs, except to the heirs of the above named Fredrick William Zoehler heirs the Sum of five dollars as above mentioned and it's hereby understood that the five dollars herein mentioned is all the heirs of Fredrick William Zoehler is to have...8"
As a result, Frederick's son, Floyd lost a significant inheritance and had little contact with most of the Zehler family thereafter.
We don't know exactly when Fred and Alice arrived in Big Rapids, however land records show Fred purchased the house and lot of his brother, Martin, in February 187317. Their son was born in Big Rapids later that year. For the next few years, Frederick worked as a laborer in an iron foundry. Then on May 16, 1877, he died of consumption (TB) at the young age of 27 11. Fred's will, on file in Mecosta County, Michigan, shows that he signed with an X, indicating he may not have been able to read or write. Alternately, he may have been too ill to properly sign the document.
---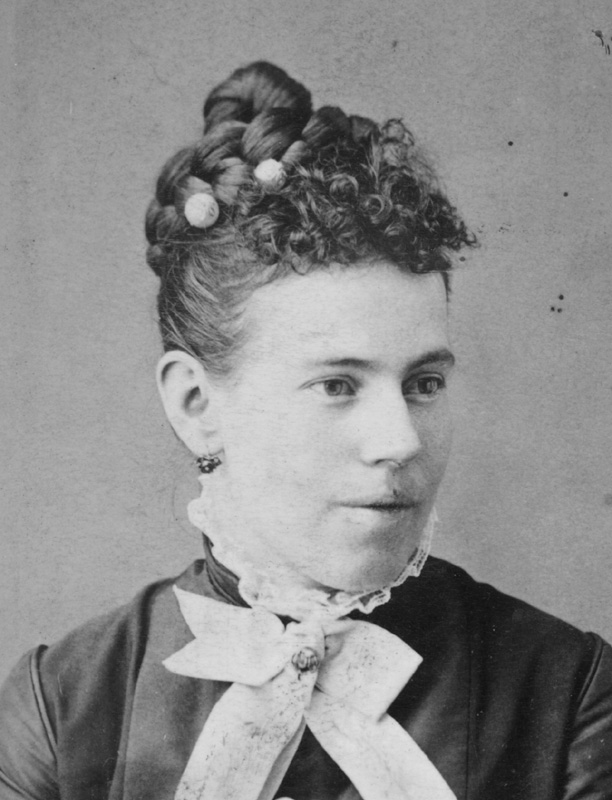 Alice in early 1880's
Alice E. Perry was born November 21, 185215, in Bennington, Wyoming County, New York, the oldest child of Williams B. Perry and Asenath Warren. Alice grew up on the family farm on Manley Road. At the time, Manley road continued to the northeast, intersecting with Poland and Graff Roads. Hence the need for a shortcut to Bennington Center. As a student in grade school, Alice studied German, as a way to help in the grocery store her father ran.
As a young lady, Alice likely had considerable contact with Fred Zehler, who had worked on her father's farm, however their courtship was probably quiet and secretive and, in the end, they apparently eloped. Alice's married life with Fred was short. Exactly nine months after their marriage, she gave birth to their only child. Then in 1877, Alice was left a widow with a small child by Fred's death. She proceeded to settle Fred's estate and moved back to Bennington to live with her parents.
On July 3, 18791, Alice remarried to Martin Tharnish, who was also Catholic and who had also worked on her father's farm. As my Dad would say, "she ruined two good Catholic boys." This time, however, Alice was baptized into the Catholic Church prior to her marriage1, which was celebrated at Sacred Heart of Jesus RC Church in Bennington2. Shortly after their marriage, Martin, Alice and Floyd migrated to Iowa, with the intent to settled in Audubon, where three of Martin's brothers had already settled. The next spring, however, they returned to New York; Alice was homesick and could not bear to live on the Iowa frontier. After returning to New York, Martin pursued a life of farming, eventually living on Matteson Corners Rd., in the Town of Sardinia, not far from its junction with the Savage Rd. The marriage of Martin and Alice lasted many years, including the birth of three children. Alice died on September 17, 194215, only a month before her 90th.
---
Top | To Zehler Surname Index | To Peter and Anna Maria Zehler | To Site Main Page