John Zehler [the younger]
Second Generation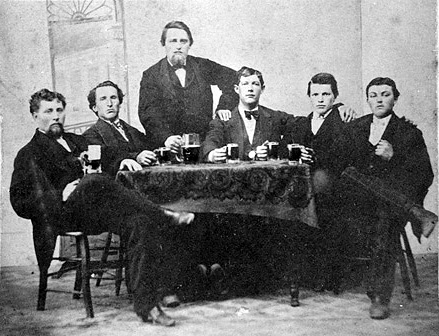 John with five of his brothers
---
John Zehler was born at Nuhweiler, Rhine Province, Prussia, on April 17, 18534,5, the eleventh child of Peter Zehler and Anna Maria Klasen. John was the older of twin brothers, being about an hour older than Jacob. He was also the second child in the family named John, perhaps because the older John had already emigrated to America. At the age of three, John came to America with his parents. His youth was spent on the family farm in Bennington, New York, where he received any formal education. In 1870, John was living with his parents and working as a farm laborer46. Our only picture with John is that above showing the six youngest boys in the Zehler family. John is probably seated at the far right.
In June of 1883, John purchased the farm lot across the Allegany road from his father, Peter, for $1,800, at least part of which was covered by a mortgage23. Then, two months later, John sold the same land to Frank Kos, for $1,800, subject to mortgage of $80023. The reason for these transactions are unclear, but may be related to John's impending move to Baltimore, Maryland.
Our last piece of information on John's life comes from the Probate Record for the estate of his father, Peter Zehler8. When Peter died in 1887, Nicholas Zehler filed for probate of his will and submitted the following deposition (shown as written):
Surrogates Court - Wyoming County In the Matter of the
petition for probate of the last will and testament of peter
zehler, decd late of the town of bennington, n.y.

state of new york
wyoming county. ss

Nicholas Zehler of the town of Bennington Wyoming County N.Y. being duly sworn deposes and says that he is a son of Peter Zehler late of the town of Bennington N.Y., and a brother of John Zehler mentioned in the annexed petition, that said John Zehler is unmarried and left the town of Bennington N.Y.&nbspabout Nov. 1884. That on the 7th day of Nov. 1886 the said John Zehler wrote to Helen Kehl a niece of deponent a letter dated at Baltimore Maryland the place where said John Zehler then resided in which letter said John Zehler said that "he was going on a steamboat to Florida and after New Years he was going on a steamboat to California. That deponent has not heard from him since and has made diligent inquiry to learn his present residence. That deponent has written to said John Zehler a letter dated May 2, 1887 directed to him at Baltimore Maryland and that said letter has been returned to deponent uncalled for and that deponent has written to Theodore Sofsky who resides at Baltimore Maryland & who is well acquainted with said John Zehler and that said Sofsky wrote deponent a letter dated at Baltimore Maryland May 5, 1887 in which said letter Theodore Sofsky writes, " I have made inquiries concerning your brother's whereabouts, but did not get any information concerning him". That deponent on or about the 2d day of May 1887 wrote a letter directed to Mr. Kerr, North Kalevert St., Baltimore Maryland, the place and direction given by said John Zehler to said Helen Kehl in his last letter to her in November last. That said letter was returned to deponent uncalled for.
That deponent has made diligent inquiry to ascertain the residence of said John Zehler and verily believes that he is not within the state of New York, but resides without the state, and at what place this deponent cannot ascertain.
Subscribed and sworn to &nbsp} Nicholas Zehler
before on this 23d day of May 1887

Chas. W. Bailey
Notary Public
John had left for Baltimore and was last heard from in 1886, prior to his presumed departure for Florida and California. He was not heard from again.
---
Top | To Zehler Surname Index | To Peter and Anna Maria Zehler | To Site Main Page
These pages are our initial attempt to capture the history and genealogy of the Zehler family. If you have comments or additional information which would add to this story, please contact us at the following address: