The Family of Jacob [Sailer] Zehler and Magdalena Kreib



Second Generation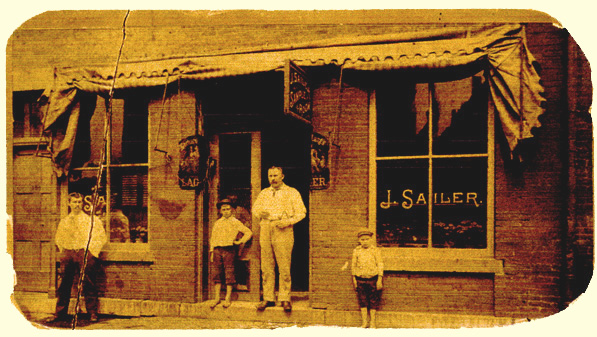 Jacob Sailer in front of his Sampling Room - around 1890
---
Jacob Zehler was born in the tiny village of Nuhweiler, Rhine Province, Prussia, and came to America in 1856, with his parents.&nbsp About 187444, he married Magdalena Kreib. Jacob and Magdalena initially lived in Attica, New York, but later moved to Buffalo, New York.

The children of Jacob and Magdalena are:
---
Third Generation
| | | |
| --- | --- | --- |
| i. | Caroline Mae Sailer | Caroline was born on October 22, 18741, and she died on November 8, 194341.&nbsp Caroline married (1) John Frederick Richter.and (2) Scot T. Martin. |
| ii. | Margaret Sailer | Margaret was born in September 187644.&nbsp She married 1) Hugh Buggy and 2) Peter Hoffman. |
| iii. | George Sailer | George was born in December 187844.&nbsp He married Mary Duffy. |
| iv. | Edward E. Sailer | Edward was born on March 12, 188141 and he died on October 18, 195441.&nbsp Edward married Susie L. McConnell. |
| v. | Jacob John Sailer | Jacob was born on June 21, 1883, and he died on November 2, 193945.&nbsp Jacob married Louise Schoenherr. |
---
Jacob Zehler was born April 17, 18534,5, at Nuhweiler, the twelfth child of Peter Zehler and Anna Maria Klasen.&nbsp His birth record shows that Jacob was the younger of twin brothers, being about an hour younger than John5.&nbsp At the age of three, John came to America with his parents.&nbsp On the ships passenger list, however, his age is listed as eleven months97; part of the mystery surrounding the Zehler family coming to America.&nbsp Jacob's grew up on the family farm in Bennington, New York, where he received any formal education.

In 186047, at age 7, Jacob was living with his parents in Bennington, as expected.&nbsp However, in 1870, he is not at home and his whereabouts is unknown.&nbsp About 187444, Jacob married Magdalena Kreib.&nbsp Magdalena was born on March 14, 1855, in Attica, New York, the daughter of Jacob Kreib and Christina Weiser.&nbsp In February 1879, Jacob Sailer purchased a lot on Folsom Street in the Attica Village, comprising three- tenths of an acre, for $265.3023.&nbsp Presumably, this purchase included a house where they would live.&nbsp The 1880 U.S. Census shows Jacob and Lena, living in Attica, with three children202.&nbsp Jacob was working as a carpenter.&nbsp These records are the first indication of the change is Jacob's surname.&nbsp Family lore suggests that Jacob changed the spelling of his name from Zehler to Sailer thinking an English sounding name would help in finding work.&nbsp The poor economy of this period and difficulty in finding jobs makes this a likely explanation.

In July of 1882, Jacob and Lena sold the lot in Attica, for $70023.&nbsp After this sale, the family's whereabouts is unknown until 1892. The Buffalo City 58 directory for that year shows Jacob living at 300 Genesee Street; occupation: "Saloon", and the entry for Jacob and family in the1892 New York State Census204, lists "Sample Room" under occupation.&nbsp Jacob was not listed in the 1891203 Buffalo City directory.&nbsp

The lead picture on this page shows that Sampling Room (Saloon) with Jacob standing in the doorway.&nbsp However, Jacob apparently only operated the Sampling Room for a few years, since the 1895 City Directory205 lists his occupation as carpenter, suggesting that Jacob had returned to his earlier profession.&nbsp In the 190044 and 1910206 U.S. Census, Jacob's occupation was again listed as carpenter.

Jacob died November 15, 191430, in Buffalo.&nbsp For the previous 4½ months he had suffered from chronic nephritis leading to severe edema.&nbsp Magdalena died on July 20, 191830, of apoplexy, probably indicating she had a stroke.&nbsp Jacob and Magdalena are buried in Pine Hill Cemetery, Buffalo, New York40.

---
These pages are our initial attempt to capture the history and genealogy of the Zehler family.&nbsp If you have comments or additional information which would add to this story, please contact us at the following address: