The Family of Nicholas Zehler and Matilda DeTemple
Second Generation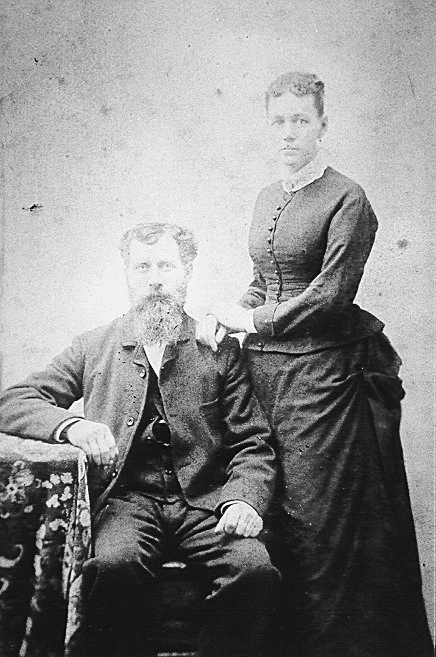 Nicholas and Matilda Zehler - late 1880's
---
Nicholas Zehler was born in Nuhweiler, Rhine Province, Prussia, and came to America in 1856, with his parents. On May 2, 187239, he married Matilda DeTemple and settled in Bennington, New York, where they raised their children.
The children of Nicholas and Matilda are:
Third Generation
---
| | | |
| --- | --- | --- |
| i. | Florence Anna Zehler | Florence was born on February 13, 18732, and she died on November 12, 193534. Florence married Frank Henry Mayne. |
| ii. | Frank Nicholas Zehler | Frank was born on September 23, 18742, and he died on December 28, 18982. |
| iii. | Josephine C. Zehler | Josephine was born on April 9, 18792, and she died on February 2, 196540. Josephine married (1) William Jacob Breen, and (2) Frank Milton Smith. |
| iv. | Rosa Eva Zehler | Rosa was born on October 5, 18811, and she died on February 28, 18912. |
| v. | William Frederick Zehler | William was born on October 5, 18812, and he died on September 18, 193041. William married Grace L. Roth. |
| vi. | Emilia Sophia Zehler | Emilia was born on March 26, 18842, and she died on June 1, 195440. Emilia married Edwin Roy Mugridge. |
| vii. | Nicholas George Zehler | Nicholas was born on December 21, 18862 and he died on January 14, 18912. |
---
Family of Nicholas and Matilda Zehler

Seated: Nicholas, Frank, Emilia
Standing: Josephine, Florence, William, Rosa
---
Nicholas Zehler was born March 24, 18455, in the tiny village of Nuhweiler, the eighth child of Peter Zehler and Anna Maria Klasen. Nicholas' baptismal record4, however, gives his date of birth as March 25th, a discrepancy which is common for four of his siblings. (see Peter for additional comments).
Nicholas spent his early years in Nuhweiler. There he received his first education, particularly learning how to farm. In 1856, he accompanied his parents and younger siblings on the long voyage to America, where the family settled on a farm in Bennington, New York. Nicholas lived with his family until the mid to late 1860's. At that time, he likely began working as a farm laborer until after his marriage.
On May 2, 187239, Nicholas married Matilda DeTemple, commonly known as Utilia. Matilda was born on December 17, 1846167, the daughter of Nicholas DeTemple and Catherine Backe. She was born at Fullersville in St. Lawrence County, New York168, where Nicholas DeTemple worked in the iron industry. The DeTemple family had a long history as iron workers and established some of the earliest smelters in the area.
In September of 187423, Nicholas purchased 51 acres of land on the Moscow and Buffalo road (route 354) just west of Bennington Center. Nicholas and Utilia settled into a life of farming and raising their growing family of seven children.
Tragedy struck the family of Nicholas and Utilia when four year old Nicholas died in January 1891. The following month Rosa died at the age of nine. These deaths apparently had a devastating effect on Utilia, who died a year later on February 14, 18922. Her obituary in the Western New Yorker reads as follows:
"Mrs. Matilda Zehler, wife of Nicholas Zehler, died at her home west of Bennington Center on the 14th inst. She has been gradually failing in health since the death of her two children, which occurred about a year ago. Mrs. Zehler was born in Fullersville, St. Lawrence county, N.Y., in 1847, her maiden name being Matilda Detemple. She leaves a husband and five children to mourn her loss. She was an excellent woman and a good Christian, and died trusting in her Savior and his precious promise of life eternal. Her funeral was well attended Wednesday, 17th, at the Catholic Church, Father Huber, officiating."
Nicholas continued to live and raise his family in Bennington, and on August 6, 1898169, he married for the second time to Elizabeth Buske. Elizabeth was born about 1849, in Rochester, New York, the daughter of John Buske169. The marriage record however, lists her name as Elizabeth Richardson Zehler, indicating that she had been previously married.
In 190033, Nicholas and Elizabeth were living on the farm in Bennington, along with children William and Emma. Nicholas' son, Frank, had died in December 18982, adding additional tragedy to the family. In 190123, Nicholas sold his farm to Thomas Fagan for $1,375, which was $75 more than he paid in 1874. At the time of sale, the farm was mortgaged for $1,100. Unlike his brother, Charles, Nicholas seems to have made only a modest living.
After selling the farm in Bennington, Nicholas and family apparently moved to nearby Darien, in Genesee county. In 1905170, Nicholas was living, alone, in Darien, working as a day laborer. Nicholas died there on September 13, 1908169. His death certificate lists the cause of death as cancer, but makes no mention of his wife. The fate of Elizabeth is unknown.
&nbsp
---
Frank Zehler: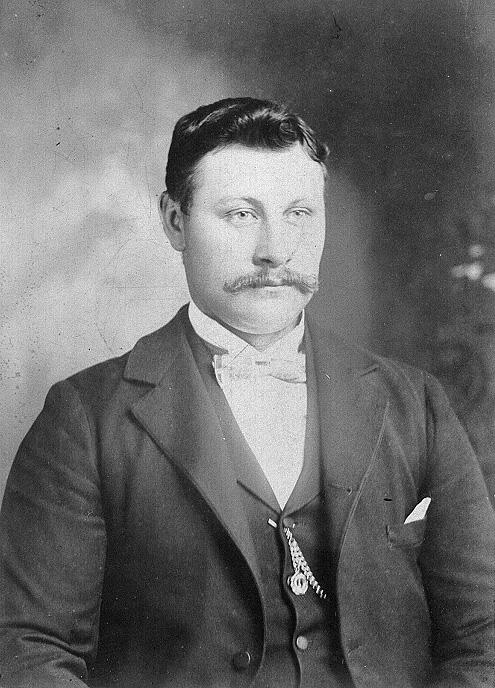 Frank Zehler
---
Frank Nicholas Zehler was born on September 23, 18742, the second child of Nicholas Zehler and Matilda DeTemple. After growing up in Bennington, New York, he moved to Buffalo where he worked for the Erie Railroad171. Frank died in Bennington on December 28, 18982. His obituary reads, in part:
"Frank Zahler, who came to his childhood's home from Buffalo last fall, only to die, passed away at 2 p.m. New Year's day171."
The newspaper account erred in the date, as shown by church records2, and in the spelling of Frank's surname.
---
Top | To Zehler Surname Index | To Peter and Anna Maria Zehler | To Site Main Page
These pages are our initial attempt to capture the history and genealogy of the Zehler family. If you have comments or additional information which would add to this story, please contact us at the following address: