The Family of Charles Zehler and Mary Backe
Second Generation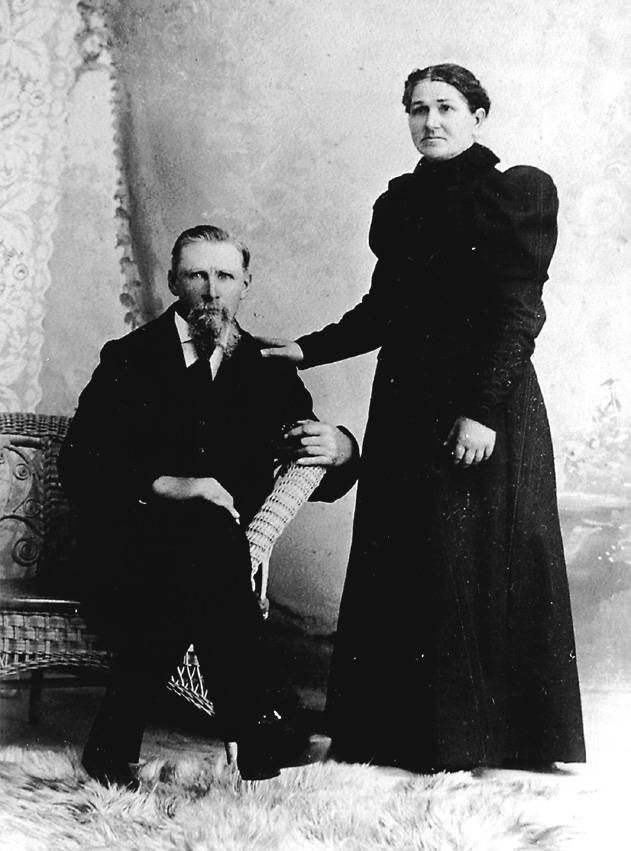 Charles and Mary Zehler - late 1880s
---
John Peter Zehler was born in Nuhweiler, Rhine Province, Prussia, and came to America in 1856, with his parents. On February 13, 18651, he married Mary O. Backe at St. Cecilia's Roman Catholic Church in Sheldon. Charles and Mary initially lived in Sheldon and Bennington, New York, but later moved to Warsaw.
The children of Charles and Mary are:
Third Generation
---
| | | |
| --- | --- | --- |
| i. | Susan Zehler | Susan was born on March 14, 18661, and she died on June 1, 19608. Susan married George Buxton. |
| ii. | Helen C. Zehler | Helen was born in 186840, and she died in 190240.&nbsp Helen married George Norris Whitlock. |
| iii. | Matilda Zehler | Matilda was born in February 187040, and she died in September 195740. Matilda married Daniel John Stevens. |
| iv. | Amelia Zehler | Amelia was born on January 19, 18722, and she died on May 23, 19368. Matilda remained single. |
| v. | John Edward Zehler | John was born on October 23, 18742, and he died 18792. |
| vi. | Albert Francis Zehler | Albert was born on November 21, 18762, and he died on January 21, 194738. Albert married Ida M. Crerar. |
| vii. | Harriet Zehler | Harriet was born on October 3, 18782, and she died on April 29, 1932148. Harriett remained single. |
| viii. | Clara Cecilia Zehler | Clara Cecilia was born on April 1, 18812, and she died in 18822. |
| ix. | Peter Benjamin Zehler | Peter Benjamin was born on May 14, 18832. |
| x. | Cecilia Clara Zehler | Cecilia was born on October 11, 18852, and she died in January 197618. Cecilia married Clayton O'Dell Gallett. |
---
Johann Peter Zehler was born December 15, 18424,5, in the tiny village of Nuhweiler, the seventh child of Peter Zehler and Anna Maria Klasen. His birth was registered with the civil authorities at Wadern the following day5, and he was baptized on December 18th, which is somewhat unusual. Typically at this time, children were baptized the same day or the day after their birth. It is also interesting to note that the baptismal name is Johann Peter, that is John Peter. A few of the early records in America, particularly land records, use the name, John Peter. However, this soon changed to Charles, the name he used throughout his life and the name which appears on his headstone.
Charles' youth began in Nuhweiler, where he may have obtained an early education. Then, at the age of 13, he accompanied his parents and siblings on their journey to America. There, he possibly continued his education and certainly helped on the family farm in Bennington. When he came of age, Charles began working as a farm laborer, following the example of his older brothers. In 1860142, he appears to be living and working on the farm of John Smith in the Town of Penfield, New York, located just east of Rochester.
On February 13, 18654,1, Charles married Mary O. Backe at St. Cecilia's in Sheldon. Mary was born in January 1846143, the daughter of Gabriel Backe and Juliana Seeholster. Jacob Backe and Otilia Illig came to Sheldon in 1835, from Alsace1, along with their ten children, of whom Gabriel was the oldest. Thus the Backe family was one of the earliest German Catholics to settle in the area.
In October of 1865, Charles purchased a 27 acre farm in Benington for $90023. Their farm was located on the Allegany Road, a short distance from that of his father. Then in January 1868, Charles sold the Bennington farm and bought 35 acres of land in Sheldon, for $100023. Only a year later, they sold their second farm and purchased another farm in Sheldon containing 73 acres, this time for $250023. It appears that Charles was using their earnings to take advantage of every opportunity to get ahead, a pattern that would continue throughout his working life. Charles and Mary continued to live on their farm in Sheldon until 1875. In that year, they purchased an 107 acre farm in Bennington, for $2300, plus assuming a mortgages for another $1,10023. They had already sold part of their first farm in Sheldon in 1873 and may have retained the rest.
Charles and Mary continued to live in Bennington until sometime in the 1890's, when they purchased a house on Center Street in the Village of Warsaw. While, Charles and Mary bought and sold a few properties in this period, they apparently retained farm land in Bennington and Sheldon, which provided rental income. In 1900143, Charles' occupation is listed as Teamster and in 1910144, he is described as living on "own income". Charles had retired and was living off the earnings from the various properties he purchased over the years.
In 1915, Charles and Mary celebrated their 50th Wedding Anniversary. This was cause for a major family celebration, which brought together nearly all of their family members. The picture from the anniversary celebration, shown below, captures the family at that time. Unfortunately, Mary was not feeling well at the time, so she and Charles are not in the picture.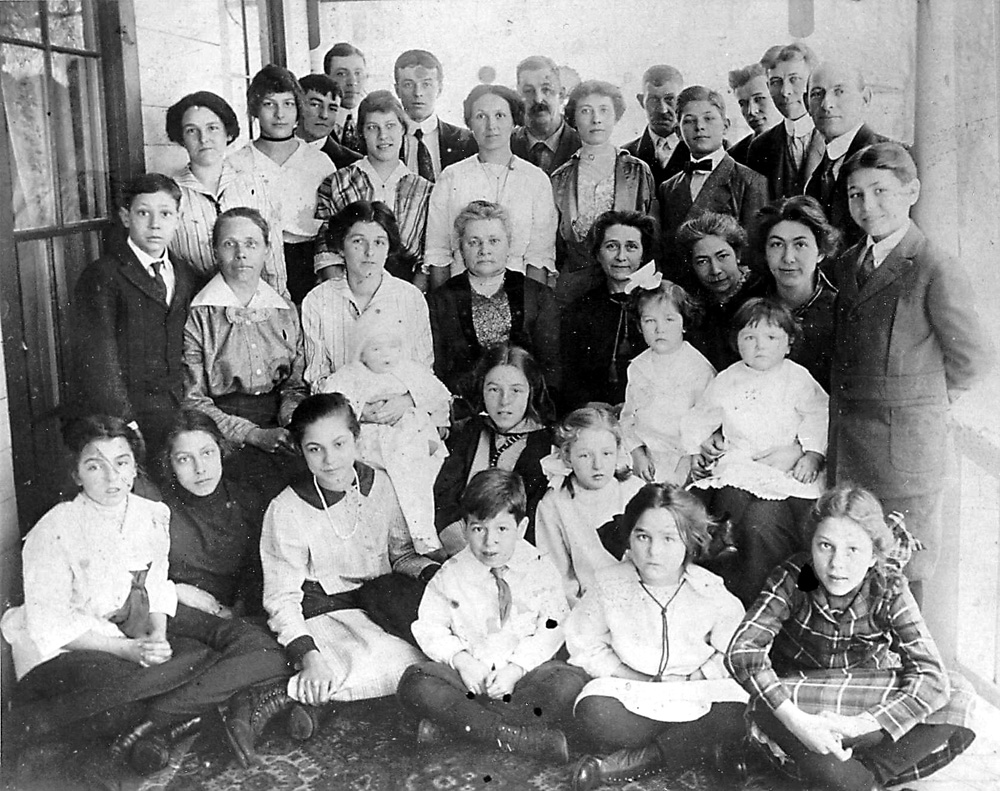 Family of Charles and Mary Zehler
50thWedding Anniversary Picture
Chalres and Mary continued to live on Center Street in Warsaw for the remainder of their lives. During this period their unmarried daughters, Amelia and Harriett, lived with them and undoubtedly tended to their needs. Mary died on May 14, 19268, while Charles died on February 28, 19338.
---
&nbsp
Amelia Zehler
Amelia Zehler was born January 19, 18722, in Sheldon, New York, the fourth child of Charles Zehler and Mary Backe. She grew up on the family farms in Sheldon and Bennington. In 1900143, Amelia was working as waitress in a local hotel, while living at home. By 1920145, she was working as a laborer in a knitting Mill, a job she continued to hold146. Amelia remained single and lived with her parents. She died on May 23, 19368.
---
&nbsp
Harriet Zehler
Harriet Zehler was born October 3, 18782, in Bennington, New York, the seventh child of Charles Zehler and Mary Backe. She grew up on the family farm in Bennington. In 1900143, Harriet was not living with her parents and was apparently working elsewhere. In 1905147, she was boarding with the Couglin family in the Akron, New York and working in a Button Factory. In 1920145, she was back living with her parents in Warsaw and working as a machine operator in a Button Shop. Sometime in the 1920's, Harriet began working for Brown Knitting Company, a job she held for nearly 15 years. Harriet remained single throughout her life. She died on April 29, 1932148.
---
Top | Zehler Index | Zehler Page | America Main Page | Site Main Page
These pages are our initial attempt to capture the history and genealogy of the Zehler family. If you have comments or additional information which would add to this story, please contact us at the following address: